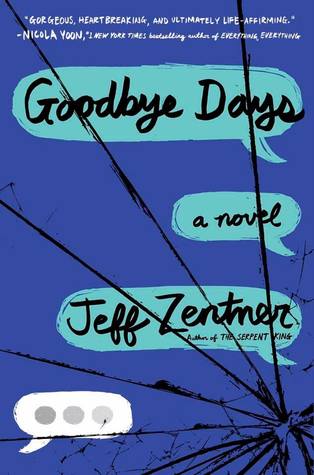 Title: Goodbye Days
By: Jeff Zentner
Published: March 7th 2017
By: Crown Books for Young Readers
Genre: YA-Contemporary
What if you could spend one last day with someone you lost?

One day Carver Briggs had it all—three best friends, a supportive family, and a reputation as a talented writer at his high school, Nashville Academy for the Arts.

The next day he lost it all when he sent a simple text to his friend Mars, right before Mars, Eli, and Blake were killed in a car crash.

Now Carver can't stop blaming himself for the accident, and he's not the only one. Eli's twin sister is trying to freeze him out of school with her death-ray stare. And Mars's father, a powerful judge, is pressuring the district attorney to open a criminal investigation into Carver's actions.

Luckily, Carver has some unexpected allies: Eli's girlfriend, the only person to stand by him at school; Dr. Mendez, his new therapist; and Blake's grandmother, who asks Carver to spend a Goodbye Day with her to share their memories and say a proper goodbye to his friend.

Soon the other families are asking for a Goodbye Day with Carver, but he's unsure of their motives. Will they all be able to make peace with their losses, or will these Goodbye Days bring Carver one step closer to a complete breakdown or—even worse—prison? 
---
---
This is such a beautiful book, honestly it's a story that I'd love to re-read right now and I just finished it lol. I feel it's so emotional and deep, it's also beautifully told. I'm happy to have read it
Goodbye Days tells the story of Carver (Blade), he has a fairly ordinary life, has great friends and a loving family, but one day all that changes after his three best friends die in a car accident. Accident apparently produced by a text message that Carver himself had sent to Mars (who was driving) just before it happened. Because of this Carver can't stop blaming himself for the death of his friends, and as if that weren't enough he's also blamed by some of the members of the guys families, among them the Mars's father, a powerful judge, who will go to the last consequences to get justice for his son. And while Carver has to deal with the pain of loss and guilt, he'll also embark himself on a healing journey, giving the last Goodbye Day to each of his best friends, before maybe, going to jail. 
From the beginning you can clearly see that this will not be an easy book to read, it really has a lot of emotional charge, it's hard but it's also real and liberating in some way. We have all lost someone we love at some point in our lives, but I can't even imagine the horror of losing three at the same time and also having to deal with all that guilt and those negative and self-destructive feelings, and that's all Carver has to deal with being so young. It's an absolutely moving story, I feel very emotional right now but also so happy that my boyfriend has chosen this book for me to read it, and in fact we ended up reading it together so the experience was doubly amazing
The plot in general is very focused on Carver, he tells us everything from his point of view, so we see and feel everything that he's going through, this has made it very easy for me to connect immediately with him, besides I think he's a very sensitive and empathetic character, and I love that. On the other hand besides going through all the stages of mourning for which he must cross, we also know the other characters in this story, the boys families, and that has been very interesting, especially because of the great diversity of personalities and stories
We have Betsy (Blake's grandmother) and she's absolutly adorable, I love this character, I feel it's very real, it was also her who comes up with this idea of ​​say goodbye to her grandson, spending with Carver a normal day that she would have spent together with Blake, while both share their stories about him, that was so beautiful to experience, the overall idea is brilliant. 
We also have Jezmyn, she was Eli's girlfriend, another of the guys in the accident, and her connection and support for Carver is great, there are some things in this relationship, which you'll know once you read the book, that make it very special and unique, I also think that Jezmyn is not the typical girl that I usually read about, she has clear thoughts and I think she's very mature for her age, I adore that. She has a condition called synesthesia, which is that people who see colors in the sounds, I'm not very aware of this condition so I'm sorry if this is not the right definition, but it's something like what Jezmyn describes, I think it's something very interesting since I had never read about something like that before.
On the other hand we have the "bad" characters of the story and these would be the Mars father, who's a powerful judge who wants to bring charges against Carver for what happened to his son and is a very cold and calculating man. And then we have Eli's twin sister, she openly blames Carver for the death of her brother and she's very cruel with her accusations and her actions. Personally I understand the pain of both characters for what happened but I feel that both overreached too much with their actions and charged with all their anger against Carver, I felt that all that was super unfair honestly.
The friendship between the four boys is great and so much fun!, they have make me smile in more than one occasion, I also feel that each of them has a personality so different from each other that makes the group so good. This friendship is very real and simple, you know? It's something pure and I appreciate that the author has included flashbacks in the story because that gives us a clearer idea of how they really were. I also love how there was a moment when they "showed up" to Carver in some way, after they died, and they had these super short conversations, that kind of detail has made me adore this book
Jeff Zentner never disappoints with his writing style so light, easy to read and at the same time so deep, moving and real. I love it, it's a wonderful job. I couldn't recommend his books more, also Jeff Zentner made my boyfriend finally read his first book ever and I can't be more happier and grateful about!
I don't want to forget to highlight the diversity among the characters and also the anxiety issue is touched, that's very important so I wanted you to know. This is just one of the topics in the book, there are other maybe touched in a more superficial ways but they're equally important and all that is great.
I felt that once it was over I was a little shocked since it has a pretty open ending somehow, I was like "WHAT?!, is really over?" LOL. But then I thought it was increibe and it couldn't have ended in a more poetic and meaningful way, I would probably read that last chapter 100 times, it has so much weight and it's so important, OMG, it's so beautiful!
---
---
Rating
4.5/5 Stars
---
---
Feel free to leave your comment below, I always love to know what you think

🙂
find me at