It's Monday! What Are You Reading? is a place to meet up and share what you have been, are and about to be reading over the week.  It's a great post to organise yourself. It's an opportunity to visit and comment, and er… add to that ever growing TBR pile! So welcome in everyone. This meme started with J Kaye's Blog   and then was taken up by Sheila from Book Journey. Sheila then passed it on to Kathryn at the Book Date. And here we are!
Hi loves!, I hope you're having a great start to the week, I know it is hard to start after the weekend, so from here, I send THE BEST ENERGIES for you all !. Today I bring you the weekly meme "It's Monday! What Are You Reading?", which I love since it allows us to keep abreast of our recent and future readings, so without further ado let's start !!
---
---
What I Read Last Week
Red Rising (Red Rising Saga #1) 

by

 Pierce Brown
This was my first reading this month, my first book pick by my boyfriend and sadly it didn't work out well. Darrow, the main character, is really arrogant and I couldn't stand his attitude, I have been told he changes his attitude during the next books, but honestly I'm not interested in continuing with this saga to find out. On the other hand the writing style has been very heavy and slow to read, it's also full of weird words everywhere lol. So I would really say that it is not the book for me
I'll leave you my review HERE in case you want to know more about my thoughts about it
---
---
What I'm Reading At Present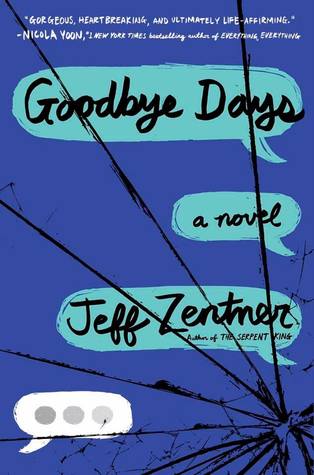 Goodbye Days 

by

 Jeff Zentner 
OMG this book, is absolutely everything I wanted it to be. I go through a little bit more than half into it and until now I love it. You can not believe this, but my boyfriend decided to read it with me and He finished it already! YES, he finish his first book ever and I can't be more proud, he also really enjoyed it so it makes me really happy that his first reading experience has been so gratifying for him.
I personally can't wait to continue with the book and tell you everything that is making me feel, I know something else will happen, I can feel it, something that will destroy my heart and I'm ready for! It's a very deep and real book and I'm enjoying it a lot, I feel very connected to the main character, so we'll see what happens
---
---
Up Next
Restore Me (Shatter Me #4) 

by

 Tahereh Mafi

or

 Norse Mythology 

by

 Neil Gaiman
Any of these may become my next reading, Restore Me hasn't arrived home yet, but i I'm dying to read it, at the same time I'm scared, I've seen good reviews and very bad ones, so the fear that something bad really happens is there. But in summary, I'll read it, I have to be strong and go for it.
And on the other hand Norse Mythology, a book that I've been wanting to read for a long time already, I've also heard the best things about Neil Gaiman, so it makes me feel excited to finally read one of his works, plus: I love mythology in general, so I think I'll enjoy it
---
---
What are you reading this week?
What have you finished reading?
Feel free to leave your comment below, I always love to know what you think 

🙂
find me at