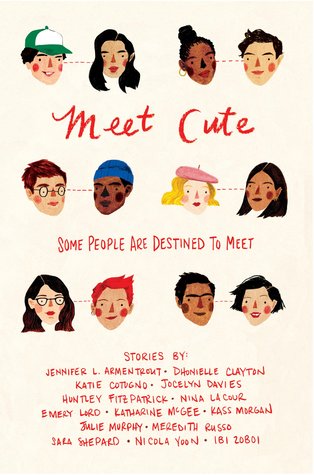 Title: Meet Cute: Some People Are Destined to Meet
By: Jennifer L. Armentrout & More Authors
Published: January 2nd 2018
By: HMH Books for Young Readers
Genre: Anthology-YA-Romance-Contemporary
Whether or not you believe in fate, or luck, or love at first sight, every romance has to start somewhere. MEET CUTE is an anthology of original short stories featuring tales of "how they first met" from some of today's most popular YA authors.

Readers will experience Nina LaCour's beautifully written piece about two Bay Area girls meeting via a cranky customer service Tweet, Sara Shepard's glossy tale about a magazine intern and a young rock star, Nicola Yoon's imaginative take on break-ups and make-ups, Katie Cotugno's story of two teens hiding out from the police at a house party, and Huntley Fitzpatrick's charming love story that begins over iced teas at a diner. There's futuristic flirting from Kass Morgan and Katharine McGee, a riveting transgender heroine from Meredith Russo, a subway missed connection moment from Jocelyn Davies, and a girl determined to get out of her small town from Ibi Zoboi. Jennifer Armentrout writes a sweet story about finding love from a missing library book, Emery Lord has a heartwarming and funny tale of two girls stuck in an airport, Dhonielle Clayton takes a thoughtful, speculate approach to pre-destined love, and Julie Murphy dreams up a fun twist on reality dating show contestants.

This incredibly talented group of authors brings us a collection of stories that are at turns romantic and witty, epic and everyday, heartbreaking and real. 
---
---
I really don't feel motivated to end this book at this moment, and I really don't want to force myself to do it, anyway I'm interested in continue with the rest of the stories in some other moment. I thought I could publish my thoughts about the stories I've read so far and at some other time, when I finally finished, publish the remaining 5 . So let's start! 
Siege Etiquette by Katie Cotugno : 4 Stars
I enjoyed this story, I feel I would have liked to continue it. I think it was sweet and I felt the chemistry between the characters, I would have liked to know more about the personal story of the girl, but above all I enjoyed the writing style and I think I would like to try with a whole book from the author at some point
Print Shop by Nina LaCour : 3.7 Stars
Wow, I expected this story to be a 5 star assured, because I love Nina LaCour, but I think my expectations were very high. I liked the story a lot, I enjoyed the characters and I loved the idea of where the story unfolds, but the romance wasn't entirely convincing for me, I didn't feel that connection, maybe because it was like insta-love or something like that, I understand that they're the beginnings of love stories so I try to judge from that side but this story, although it was entertaining and I love the writing style, didn't have a romance that caught me
Hourglass by Ibi Zoboi : 2 Stars
I really didn't enjoy this one, I give my points for the representation of a black character, but that's it. I didn't like the main character, their attitudes are quite rude. I didn't enjoy the aspects of friendship neither, I felt this story quite false for some reason, just not my favorite
Click by Katharine McGee : 4.5/5 Stars
This story was so SWEET, I loved it. I really enjoyed the futuristic aspect, I think the idea of an application like Click is very clever and the characters are great, especially the ending is adorable. One of my favorite things was the idea of the program in which Alexa was working on and her motivations to do it, I think it has a great emotional load and it was really nice
The Intern by Sara Shepard : 1/5 Stars
 
I couldn't connect with this story at all, I don't understand why the attraction between the characters in the first place and even when it's obvious that the girl is going through a pain due to the loss of her mother I really don't think the situation is connected with anything else, I didn't feel the connection and the story should be more credible
Somewhere That's Green by Meredith Russo : 3.5/5 Stars
I enjoyed this story, I really enjoyed meeting the two characters, I'm not sure about their individual personalities, I feel there are actions of them that I don't like but I respect and appreciate the diversity, since one of those characters is transgender and another is gay. The interaction between them was very interesting, it's a pretty strong story because we see different positions on a very important social issue and it's great that the author dared to talk about something like this
The Way We Love Here by Dhonielle Clayton : 5/5 Stars
Love this story is absolutely my favorite, I love that it has a bit of fantasy and mythology in it, in a world where the gods decide who each one should love. It also shows the possible future of the main characters depending on the decisions they make in the present and YES, I love that type of plot. Also, I've loved the characters I think they're independent, dreamers and looking for a new possibility in their lives, I really love it. Even when it's such a short story, it produces many feels and emotions. An incredible job (I just realized that she's the same author of The Belle, and now I couldn't be more excited to read it!)
Oomph by Emery Lord : 4/5 Stars
I enjoyed this too, obviously after coming from a story I loved, it's hard not to compare them, but I still liked it a lot. It was quick and easy to read, I love the interaction between the two girls. I love the dialogues in books in general and those that are part of this story are beautiful, light and fun. Plus: I loved the ending and I think the title is very smart
---
---
Rating
DNF… FOR NOW
---
---
Feel free to leave your comment below, I always love to know what you think

🙂
find me at