It's Monday! What Are You Reading? is a place to meet up and share what you have been, are and about to be reading over the week.  It's a great post to organise yourself. It's an opportunity to visit and comment, and er… add to that ever growing TBR pile! So welcome in everyone. This meme started with J Kaye's Blog   and then was taken up by Sheila from Book Journey. Sheila then passed it on to Kathryn at the Book Date. And here we are!
Hi loves!, I hope you're having a great start to the week, I know it is hard to start after the weekend, so from here, I send THE BEST ENERGIES for you all !. Today I bring you the weekly meme "It's Monday! What Are You Reading?", which I love since it allows us to keep abreast of our recent and future readings, so without further ado let's start !!
---
---
What I Read Last Week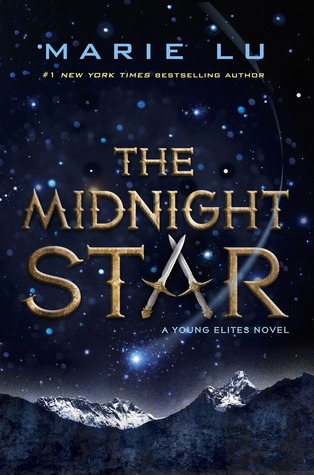 The Midnight Star (The Young Elites #3) 

by

 Marie Lu
Oh, I love this book, SO EPIC, it has made the whole trilogy become one of my favorites. I don't want to start talking about everything that happens in it, first: because there are too many things happening, and second: because I don't want to do any spoilers about it. I just want to say that I recommend it a lot, it's a trilogy that will not stop surprising you, the characters are diverse and they're incredibly created, it has a fantastic and dark world building, and you'll simply love everything that these books have to offer. Plus: it has one of the best main characters I've read about, I LOVE HER!
I'll leave you my FULL REVIEW HERE in case you want to know more of my thoughts about it
---
The Hating Game by Sally Thorne
I didn't like the concept of the book, I don't think it has a plot, I didn't like the characters and I didn't find it funny. Honestly I was sick with this in the first 50 pages, but I decided to push myself to continue with it and after reaching 100 pages I just couldn't anymore. This book is not for me, definitely not. Review HERE
---
---
What I'm Reading At Present
Magic Study (The Chronicles of Ixia #2) 

by

 Maria V. Snyder 
I'm enjoying it a lot, I've heard that many describe this book as the weakest in the series, but I'm not really feeling that. I think that by reading this book I can see how much the writer has improved in her writing style. I think that by containing much more magic that makes myself enjoy of this one even more. On the other hand I notice a great disconnection from one book to another, I think it seems a different story from the original, you know?, perhaps with the incorporation of characters from the past it could make it feel more familiar. Even so I'm having a great time with it and I'm not in a hurry to finish it
---
---
Up Next
I have no idea what I'll be reading next, like at all!. My plan was to read The Extinction Trials, but unfortunately it hasn't come home yet, so I think I'll pick up whatever I'm in the mood for at the moment and I'll let you know!
---
---
What are you reading this week?
What have you finished reading?
Feel free to leave your comment below, I always love to know what you think

🙂
find me at