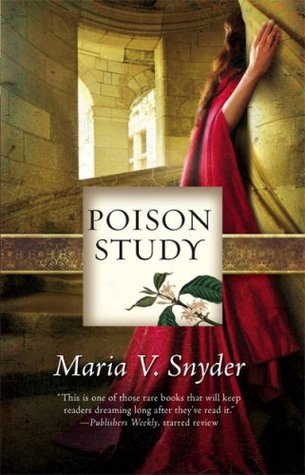 Title: Poison Study (Study #1)
By: Maria V. Snyder
Published: March 1st 2007
By: Mira
Genre: YA-Fantasy-Romance-Magic
Choose: A quick death…Or slow poison…

About to be executed for murder, Yelena is offered an extraordinary reprieve. She'll eat the best meals, have rooms in the palace—and risk assassination by anyone trying to kill the Commander of Ixia.

And so Yelena chooses to become a food taster. But the chief of security, leaving nothing to chance, deliberately feeds her Butterfly's Dust—and only by appearing for her daily antidote will she delay an agonizing death from the poison.

As Yelena tries to escape her new dilemma, disasters keep mounting. Rebels plot to seize Ixia and Yelena develops magical powers she can't control. Her life is threatened again and choices must be made. But this time the outcomes aren't so clear… 
---
"Everyone makes choices in life. Some bad, some good. It's called living, and if you want to bow out, then go right ahead. But don't do it halfway. Don't linger in whiner's limbo."
This book is quite amazing! I really enjoyed it, I feel it's one of those books that although time passes is still one of the good ones. The best thing about the book is, undoubtedly ,the content of political drama and the slow-burn romance. I'm excited to continue this story and see what will happen to the characters after everything that happened
Poison Study follows the story of Yelena, she's waiting for her execution for committing a serious murder, but, Valek, the Comandante's right hand offers her to become his new food tester or if she so decides, finally to be executed for her crime and she, of course, accepts the offer in order to save herself from her fatal fate. In this way is immersed in a political world full of deceptions, alot of poisons and ambitious characters. And as she struggles to stay alive in this dangerous world she will also have to face her dark past and magical secrets about her own person will be revealed 
The world where the story unfolds is incredible, I love this kind of fantasy where the world is divided into kingdoms and its surroundings are super atmospheric, I think it's beautiful. In this particular book we know especially Ixia that is where most of the plot is developed, but there are many places that are only named that I look forward to be described in the next book. I also like how the description of this world doesn't become heavy at any time and you can easily feel yourself inside of it.
The writing style is super fluid and addictive, the idea of the book in general seems very original, despite I having read fantasy books with a similar theme, I had never read one so focused on the subject of poisons and the position of food tester that the writer gives to the main character seemed very cool to me. As I said before, this is a book that although several years have passed since its realease date doesn't seem an "old" book at all, I have felt it quite modern and although it has some cliche aspects, at the time, you don't lose interest in the plot in general.
"Trusting is hard. Knowing who to trust, even harder."
The plot is one of the best things in the book, the political drama is handled in a exceptional way and I've never felt so attracted to this type of things so I feel that this book has changed my way of thinking. I don't know if it happens to you, but for me, the political drama was something a bit boring to read in books, well, Poison Study has shown me that it can be a very exciting thing
The characters are really good, my personal favorite is Valek, he's the right hand of the Ixia's Commander, he's also an experienced assassin and an excellent fighter. From the beginning I found him very interesting, has an suspense and mystery aura that kept me wanting to know more about his personal story and although he's very reserved during most of the book, in the end we managed to understand the personal reasons which have led him to be in his current position. This character has many stages and that's why I find it so compelling, the fact that he can be evil and dark and at the same time honest and protective, is great and I love it.
"What have I earned from you, Valek? Loyalty? Respect? Trust?"
"You have my attention. But give me what I want, and you can have everything."
Yelena is great, she's very mentally strong, her resistance is obvious from the beginning, she spent a long time locked up for killing the son of a powerful Commander, respected by all, and because of this people don't stop judging her, but nobody knows the truth of what happened with her, and once you find out the fact that led her to commit murder you can feel a lot of empathy for her, personally broke my heart. I like how she's a character who always wants to learn things and keep going, and although it's obvious that she suffers from a great sorrow for her past, she never lets herself be overcome by that feeling and follows ahead despite dragging a great weight behind her. It's quite admirable and I think it's a very good main character to follow, since she can surprise you from one moment to another and her growth is unlimited. I think Yelena's development with magic is very scarce during this book, she doesn't really accept it until the end and I hope to see more about this in the next book
I want to make two special mentions and they're Ari and Janco, I must confess that in the beginning I didn't trust at all in these two, I was thinking all the time that they would betray Yelena at any moment, but in fact it was a pleasant surprise. During the book they show their most human part and have many acts of kindness to Yelena, at one time I thought it was very good to be true lol (Yes, I'm distrustful of the secondary characters in the books), but in fact it was true! . At the end I realized that I really love them and I feared for their safety, I hope to see them again, they're characters that bring a light and fun touch to the plot, I also love their friendship with Yelena.
I love the romance, I love how it was super slow-burn, I was hoping all the time for something to happened between them. Most of the endings of each chapter have that moment of sexual tension between them and it's so real but they don't know that lol. I simply adored the way in which everything developed between the two of them. And in the end I really think that it's perfect as everyone follows their destiny and their desires despite the romanticism , it's like the love between them doesn't become something obcessive or something for which to left everything and I don't know, I like to see them together but at the same time I like to see them as independent people
"Yelena, you've driven me crazy. You've caused me considerable trouble and I've contemplated ending your life twice since I've known you." Valek's warm breath in my ear sent a shiver down my spine.
"But you've slipped under my skin, invaded my blood and seized my heart."
"That sounds more like a poison than a person," was all I could say. His confession had both shocked and thrilled me.
"Exactly," Valek replied. "You have poisoned me."
Now I have to confess that the end wasn't what I expected, the final "battle" was too fast for me, I think the last 3 or 4 chapters happened very hastily, and in about 2 seconds everything had been resolved. I didn't like that much because I feel I was expecting more tension at the end and for me it was all too convenient and easy. I understand that it's only the first book, but I love when the endings bring that feeling in the belly like nerves, when you're worried or there is a big plot twist or something that leaves you wanting for more, you know ?. I don't know, it wasn't enough and it's a bit disappointing. Anyway, I'll continue reading because I'm interested in the story and the characters as to leave them.
I'm so happy to finally have read this book, I recommend it especially if you're looking for a reading with high political content, many hidden killers and if you like subtle romance. The plot in general doesn't disappoint and many things could happen in the second book so I think it's worth giving it a try
---
---
Rating
4/5 Stars
---
---
Feel free to leave your comment below, I always love to know what you think

🙂
find me at