Hi Guys!, I hope you're having a beautiful day, today I will share with you my December Wrap Up, where I tell you about the books that I've read during the month. December has been a busy month for me, I think in general it's a busy month for everyone, so I haven't been able to read as much as I would have liked. This month became what I think is my worst reading month, but in spite of that I can say that I have found a wonderful book this month and that has been fantastic. Oh, in fact 2 incredible books, but for totally different reasons, you'll realize
This month I read 4 books, actually 3 and a short book but I'll make it count anyway lol
I'm currently reading: Poison Study by Maria V. Snyder, I'm almost 50% through it, and it's so addictive, I really didn't expect to like it that much, I'm very excited for this new world and new characters, all is super interesting and intriguing, I hope continues to be great.
I really hope that the next month is better, I have many plans for next year, especially many incredible readings plans.
---
---
Before starting I want to wish everyone a happy NEW YEAR!, I hope everyone is surrounded by your loved ones and I hope you can achieve all your goals, I wish you can be very very happy and that each day can be better than the previus one, I love you and send you a lot of light and love from here to you all
---
---
Without more futher ado I'll tell you about my readings of the month, let's start!
---
---
ARCs of the Month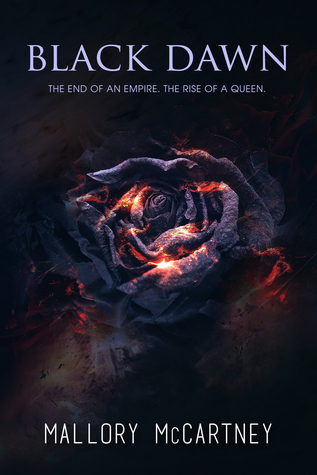 This was a big surprise for me, I enjoyed it a lot, it's a very entertaining short fantasy book, that will keep you wanting more and more, besides the characters are super interesting. I think it's an excellent book for read-a-thon or some kind of challenge since it can be read very fast. If you like magic, plot twist and you want to read a fast-pace fantasy, this one is for you !. If you want to know more about it, I'll leave you with my review below so you can check it out
Black Dawn (Black Dawn #1) by Mallory McCartney (4/5 Stars) SHORT REVIEW HERE
---
I liked it although I expected more, it's a very entertaining book if you like the mystery genre, but I would recommend it for those who are just beginning with it, since it has been quite predictable for me. Maybe I' have great expectations with this one, but the characters seemed really flat and if you already know me, you know I can't let that happen. Even so, it's entertaining and the writing style is quite good. But even so I expected something more complex here and instead I found a quite simple mystery book, nothing that I haven't read before to be honest, but it can be entertaining if you're looking for a light reading and don't want to read a simple contemporaneous, you know?
Pretty Dead Girls by Monica Murphy (3/5 Stars)
---
---
Amazing Readings
This book is absolutely FANTASTIC !, OMG guys, I can't stop thinking about it and everything that has happened is crazy amazing. The characters are incredible, so diverse in sexuality as in personalities, and I love them so much, so I know that I'll suffer in the last book. This book has one of the most great main characters that I've ever read about, she's so interesting, intriguing and evil too, although it's much more complicated than that, being in her head has been incredible. The magic that is handled in this world is very X-Men style and I love that too. The end of this book has left me destroyed, EPIC doesn't even come close to what it was, I was so emotional, I could cry right now just thinking about it lol.
Although I'm dying to discover the outcome of this trilogy, at the same time, it will be very difficult for me to let go of this AMAZING story.
This is Game of Thrones knows X-Men and you need to read it if you haven't done it yet!
The Rose Society (The Young Elites #2) by Marie Lu (5/5 Stars) REVIEW HERE
In case you want to read my review about the first book: The Young Elites, I'll leave it to you HERE
---
WOW this book, I don't know why it took me so long to read it, but I'm happy I did it before the year is over. This is a very POWERFUL book, I've said this a million times since I read it but I can't think of a more appropriate word to describe it. I feel that I've learned so much about everything black people have to go through and how they have to fight for their rights. The Angie Thomas writing style makes a heartbreaking truth something fluid and entertaining to read, therefore you'll pass through all the states, I've laughed, I've cried and I've become very angry too. It's a book that will open your eyes to things that unfortunately are happening today, it's very important for me to recommend this book, I know that many people have already read it but I think that even more should. I can't wait to read more about the author and since I found out that a new book will be released this coming year I can't wait! I'm really excited.
The Hate U Give by Angie Thomas (4.5/5 Stars) REVIEW HERE
---
---
What has been your favorite reading of the month?
Feel free to leave your comment below, I always love to know what you think

🙂