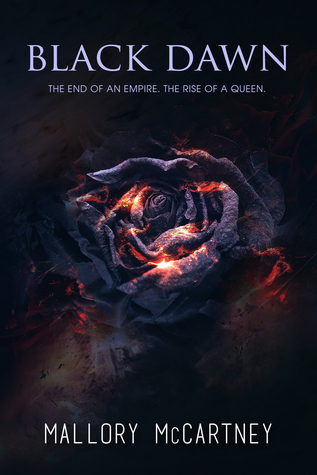 Title: Black Dawn
By: Mallory McCartney
Published: February 14th 2017
By:  Clean Reads
Genre: YA-Fantasy-Magic-Paranormal-Romance
The end of an Empire, The rise of a Queen

Emory Fae enjoys leading a quiet, normal life. That is until two mysterious, and handsome soldiers show up at her apartment, and the life she knew is instantly whisked away. Memphis Carter and Brokk Foster come from the magical and war ridden world of Kiero, and upon Emory's arrival she will discover she is the long lost heir to the Royal Line and is thrown into the Black Dawn Rebellion with a dynamic role to ignite the rebels and reclaim her throne.

With both men being darkly woven in her past Emory uncovers hidden secrets, a power held long dormant, and will soon realize there are worse things than supernatural humans, love, loss, betrayal, and a Mad King.

Some things are better left in the shadows. 
---
---

This book is a lot of fun !, I'm surprised, I've found a great story with an amazing amount of diverse characters and alot of magic.
In general, you never know what you'll find when you read a short book, much less if it's fantasy. Of course the lack of development of the world can be a problem, in this case I would have liked to know a little bit more, but even so, I don't think that this has affected at all my enjoyment when reading it. So leaving that aside, I think you shouldn't be fooled by the book size, I think it has enough content and is really good, we have friendship, betrayal, magic, revenge, love and my favorite thing PLOT TWIST!
The writing style is fantastic and this along with the characters were executed in a successfully way 
At first I felt that I was bombarded with a lot of information about the paranormal and fantastic aspects of the plot, from the powers to the creatures, and this was certainly a bit confusing, but once you know more about the characters' stories, from their points of view, how their lives work and how they connect with each other, everything is taking more sense and is really an addictive reading. All the time I felt that I was inside a chapter of a TV series which I didn't want to end.
I think this short book would be a great start for young readers who are just starting with the genre and don't want to read a very dense or full of descriptions fantasy book. This is short and it's simple but it works perfectly and that's what it's about
The ending is quite open, which doesn't surprise me since this type of short books always tend to have a sequel, so I can't wait for the second part !. If it has everything that this first part had, it will be Incredible
---
---
Rating
4/5 Stars
---
---
Feel free to leave your comment below, I always love to know what you think

🙂
find me at