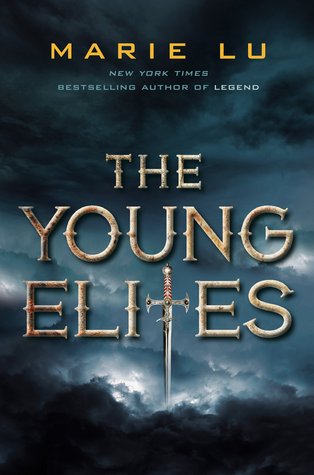 Title: The Young Elites
By: Marie Lu
Published: October 7th 2014
By: G.P. Putnam's Sons Books for Young Readers
Genre: YA-Romance-Fantasy-Magic-Paranormal
I am tired of being used, hurt, and cast aside.

Adelina Amouteru is a survivor of the blood fever. A decade ago, the deadly illness swept through her nation. Most of the infected perished, while many of the children who survived were left with strange markings. Adelina's black hair turned silver, her lashes went pale, and now she has only a jagged scar where her left eye once was. Her cruel father believes she is a malfetto, an abomination, ruining their family's good name and standing in the way of their fortune. But some of the fever's survivors are rumored to possess more than just scars—they are believed to have mysterious and powerful gifts, and though their identities remain secret, they have come to be called the Young Elites.

Teren Santoro works for the king. As Leader of the Inquisition Axis, it is his job to seek out the Young Elites, to destroy them before they destroy the nation. He believes the Young Elites to be dangerous and vengeful, but it's Teren who may possess the darkest secret of all.

Enzo Valenciano is a member of the Dagger Society. This secret sect of Young Elites seeks out others like them before the Inquisition Axis can. But when the Daggers find Adelina, they discover someone with powers like they've never seen.

Adelina wants to believe Enzo is on her side, and that Teren is the true enemy. But the lives of these three will collide in unexpected ways, as each fights a very different and personal battle. But of one thing they are all certain: Adelina has abilities that shouldn't belong in this world. A vengeful blackness in her heart. And a desire to destroy all who dare to cross her.

It is my turn to use. My turn to hurt. 
---
---
OMG the epilogue was fantastic!, I need to know more about this girl, she will be my favorite character lol. I really enjoy this book a lot, a long time since I didn't enjoy a YA fantasy book so much, so it makes me very happy to have found this book. The general plot idea is so smart and I loved the characters!
The Young Elite follows the story of Adelina she's a survivor of the so-called blood fever, which has taken the lives of thousands of people, but those who have survived as Adelina have been physically marked for life, and because of this they're called malfettos, due to the fact that society thinks they're defective. But some of these malfettos have been sold with supernatural gifts, and although their identities remain secret, they have come to be called the Young Elite. 
Not only will we have Adelina's point of view, we will also have Taren's, who is the leader of the inquisitors and works for the king, he thinks that all Young Elites are dangerous and vengeful, so his job is to find and kill all the members of the Young Elite, in order to prevent them from destroying the nation.
And we also have the Enzo's point of view, who is the leader of the Dagger Society, which is a Young Elites society and they take care of rescuing and recruiting others Elites before the inquisitors find them and execute them.
I loved the main idea of the book to present this character that is Adelina who isn't exactly the main character we are used to, she has this very dark side which is always threatening to comes out, I really love that. She has many villain aspects, and her unstable personality makes you be on the edge of your seat all the time waiting to see what decisions she'll make, it's a very complex character and getting into her mind is one of the most entertaining things about the book, It's brilliant. I personally always find myself more attracted towards this type of personality in the books I read, but I've never read one in which this character is the main character, you know?, so that impressed me and I think it was very a smart thing to do, it's also very risky, because not many people may be on Adelina's side during the plot. Even so, once you know her story, so hard and cruel, then you come to understand all the rancor, distrust and darkness that surrounds her. I'm dying to continue reading about her and to know how she'll continue her story based on everything that happened.
I really like Enzo he's a very frontal character and he's decided and he always goes for what he wants that made me sympathize with him, besides his personal story is very powerful too, and gives the plot a very important condiment. I would have liked to have more chapters with his point of view, I feel that although I have come to know him, he almost always shows himself through the Adelina's eyes and personally I would have liked to know more his thoughts, even so a very promising character!
Taren is one of those characters that you hate or hate lol, this character is the "villain" of the book and is very good at it, I don't know what to think about him yet, I think he's a very dangerous person because he's convinced that he have to eliminate all the malfettos and I know he would do anything to achieve his goal . He's extremely smart and astute that makes him a very interesting character, I still don't know alot about him despite his political objectives, but I hope to find out more about him soon
Leaving aside the characters for a moment, I think that although the plot and the characters have caught me complettly, I've had some problems with the descriptions, I'm not a big fan of them when they're so complex, but I understand that in a new fantasy world is always needed to create the atmosphere and know more about the world where the story unfolds, so we're bombarded with alot of new places and information, this can be overwhelming at times. Even so, I think this will not be a problem in the second book, since I'm more familiar with the world now it will be easier to get into it
I liked how the romance is handled, I would have liked a little more interaction between them, because I loved the couple so much lol. But still leaving that aside, I think it had the right romance, it wasn't the main theme but it was like a condiment and the scenes between them were described perfectly, I'm obsessed with the way in which Marie Lu managed the romantic scenes, so delicately, but so sexy at the same time, a 10!
The end was so good guys! I can't wait to see what happens from now on. This broke my heart, it was very surprising, because although the possibility existed, I didn't see it coming, I'm still somewhat denied, but after reading that prologue my hopes were reborn, I hope to continue this trilogy next month
I highly recommend it if you want to read a YA fantasy that is different from the many that exist today, I know it's an old book, but it's absolutely original and you have to read it. A dark main character, unique magic, unexpected twists, you just have to do it! 
---
---
Rating
4/5 Stars
---
---
Feel free to leave your comment below, I always love to know what you think🙂
find me at