Hi guys, I hope you are having a great weekend. Today I bring you something very different, I know that my blog is very focused on reviews and although I also do some tags and memes, I feel that I would like to start doing something more casual kind of post, like this Bookish Updates, where I thought we could talk about some things that are happening in the bookish world, and thus share our thoughts on the issues that are happening at the moment. I plan to do this every time I want to tell you something important or some recent information about new releases, revealing covers and information related to the literary world.
---
---
Well, before I start I want to tell you what I'll be reading this weekend and it's They Both Die at the End, yes, it's finally happening, you guys!, and I can' be more excited about because I've heard only good things about it.
I'm in fact writing this post on Friday night although you'll see it on Saturday, so I'll be beginning to read this book tonight and I can't wait for, the promise sounds more than interesting, I'm ready. I'll be let you know how I feel with this reading while I going through it
---
---
Today I want us to talk about two super-named news on twitter today, we have the of a cover revealed of a sequel super expected by all of us and an adaptation to the big screen that will surely make you very happy, so let's start!…
Renee Ahdieh (@rahdieh) has a super exciting news for all The Wrath And The Dawn fans…


the book has plans to become a MOVIE!!
One Life to One Dawn.

In a land ruled by a murderous boy-king, each dawn brings heartache to a new family. Khalid, the eighteen-year-old Caliph of Khorasan, is a monster. Each night he takes a new bride only to have a silk cord wrapped around her throat come morning. When sixteen-year-old Shahrzad's dearest friend falls victim to Khalid, Shahrzad vows vengeance and volunteers to be his next bride. Shahrzad is determined not only to stay alive, but to end the caliph's reign of terror once and for all.

Night after night, Shahrzad beguiles Khalid, weaving stories that enchant, ensuring her survival, though she knows each dawn could be her last. But something she never expected begins to happen: Khalid is nothing like what she'd imagined him to be. This monster is a boy with a tormented heart. Incredibly, Shahrzad finds herself falling in love. How is this possible? It's an unforgivable betrayal. Still, Shahrzad has come to understand all is not as it seems in this palace of marble and stone. She resolves to uncover whatever secrets lurk and, despite her love, be ready to take Khalid's life as retribution for the many lives he's stolen. Can their love survive this world of stories and secrets?
There is not much information yet about it, what I know is that Imagine Entertainment has picked up feature film rights to The Wrath and the Dawn and hopefully it will be amazing as it deserves. Surely Renee will be updating about it on her twitter and I'll leave the source of the information HERE in case you want to check it out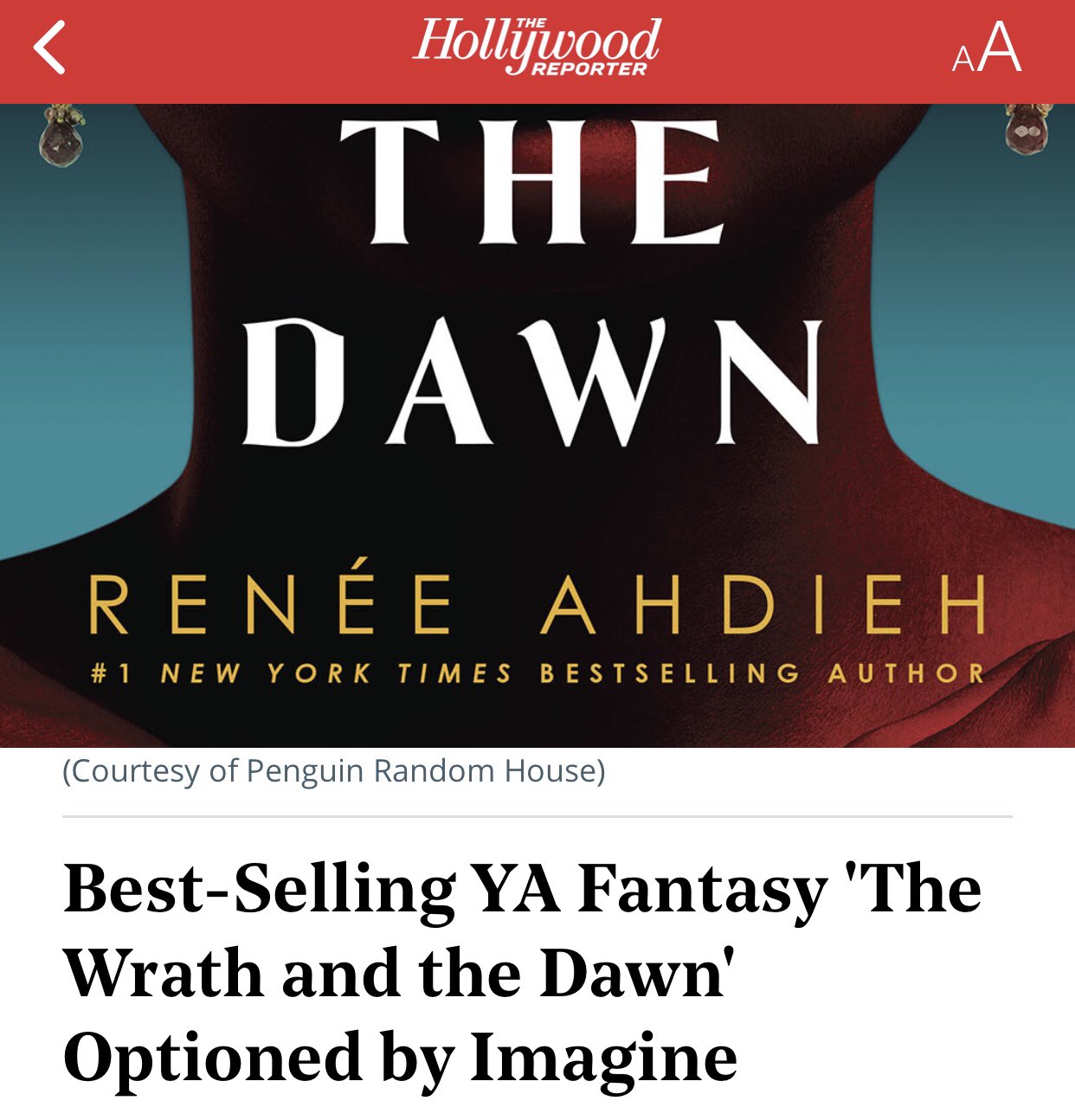 Personally I haven't read this duology yet, although I'm dying to do it, it's been in my TBR for some time now, but I wanted to bring you this news, which you may already know by now, because I know it's a super loved book by the majority of you and it's really always emotional when they allow us to have the opportunity to see our characters of the storys that we love in the big screen, it's really magical, as long as it's as faithful as possible to the book, of course.
---
---
Now we'll move to this incredible cover that has been revealed today 11/17/17. OMG, guys I can't be so EXCITED, but I'm lol.
The great Becky Albertalli (@beckyalbertalli) the writer of Simon vs. the Homo Sapiens Agenda, as you know, has written a sequel to this wonderful book called Leah on the Offbeat and will be released on April 24th 2018. This book will be focused on the Leah Burke's POV one of Simon's best friends and promises to be unique and adorable as we are used to.
Ok, now let's move on to the important,
finally its cover has been revealed today

,
which is great since it's also Becky's birthday … and without further ado we're going to see it …
Isn't ADORABLE?! I love this cover, the colors together look so good, I think it will look beautiful together with Simon's cover, and this makes me feel even more excited for its release date to have it in my hands
I'll leave you the synopsis below in case you haven't read it yet …
Leah Burke—girl-band drummer, master of deadpan, and Simon Spier's best friend from the award-winning Simon vs. the Homo Sapiens Agenda—takes center stage in this novel of first love and senior-year angst.

When it comes to drumming, Leah Burke is usually on beat—but real life isn't always so rhythmic. An anomaly in her friend group, she's the only child of a young, single mom, and her life is decidedly less privileged. She loves to draw but is too self-conscious to show it. And even though her mom knows she's bisexual, she hasn't mustered the courage to tell her friends—not even her openly gay BFF, Simon.

So Leah really doesn't know what to do when her rock-solid friend group starts to fracture in unexpected ways. With prom and college on the horizon, tensions are running high. It's hard for Leah to strike the right note while the people she loves are fighting—especially when she realizes she might love one of them more than she ever intended.
and last but not least if you're a Simon vs. fan like me, then you'll be interested in this …
The SIMON VS. THE HOMO SAPIENS AGENDA: SPECIAL EDITION comes out on January 30th, 2018!! It features a TON of must-have exclusive content like new emails between Simon and Blue, a behind-the-scenes scrapbook from the LOVE, SIMON set, and conversations between Becky and author squad members Adam Silvera & Angie Thomas!!
Yes, I know that my wallet is not happy but I am! and I can't wait! The source of the information is EPIC READS, I'll leave HERE the link if you want to know more about it 🙂
---
---
What do you think about this news!?
Let me know in the comments below, I would love to know your thoughts about it
find me at