It's Monday! What Are You Reading? is a place to meet up and share what you have been, are and about to be reading over the week.  It's a great post to organise yourself. It's an opportunity to visit and comment, and er… add to that ever growing TBR pile! So welcome in everyone. This meme started with J Kaye's Blog   and then was taken up by Sheila from Book Journey. Sheila then passed it on to Kathryn at the Book Date. And here we are!
Hi loves !, I hope you're having a great start to the week, I know it is hard to start after the weekend, so from here, I send THE BEST ENERGIES for you all !. Today I bring you the weekly meme "It's Monday! What Are You Reading?", which I love since it allows us to keep abreast of our recent and future readings, so without further ado let's start !!
---
---
WHAT I READ LAST WEEK
The Temptation of Adam 

by

 Dave Connis
I've had some problems with the characters, but even so I would recommend this reading for all those who are interested in the addictions issues, and although the book specifically focuses on Adam's addiction to pornography, on the other hand, It touches another type of addictions as well, so I feel that it's quite rich in that aspect. I think this topic is so important and I hope to read more books that dare to touch this topic. I'll leave you my full review HERE in case you want to know more about it
---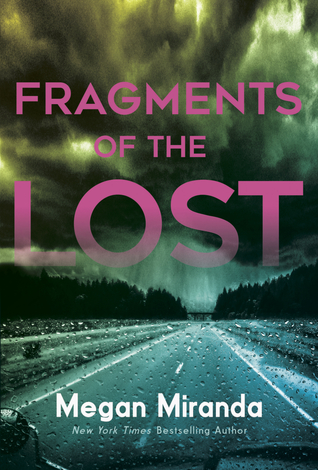 Fragments of the Lost 

by

 Megan Miranda
What an amazing surprise this book was for me, I loved it !. It's a story told in a brilliant way, follows the Jessa's life after the death of her ex-boyfriend and how she will discover that he wasn't the person she thought he was and we'll see how this affects her as a person while we accompany her on a self-discovery journey. I feel that although the story focuses on her relationship with her ex-boyfriend, there is almost no romance in this, it's about figuring out what you want to do with your life or what you're willing to do for those you love and for yourself. It has an amazing plot twist and a lot of mystery, it's very fast-paced as well, so you have to read it !. It's SO GOOD!. This one will be released tomorrow, so if you're interested you'll not have to wait for :). Full Review HERE
---
---
WHAT I AM READING AT PRESENT
I'm enjoying it until now. I don't think you know this, but I'm a big fan of Greek mythology, anything that contains it, I'll read it!. This particular one contains Indian mythology and I had no idea that I would find it but I LOVED IT! I didn't know anything about this, but I was so interested that I had to Google a couple of things lol, it's the aspect of the book that I'm enjoying the most. I'm not sure about the main character, she makes me a little nervous, but I'm about to start the second part of the book and I've heard it's much better than the first one, so I'm excited.
---
---
UP NEXT
They Both Die at the End 

by

 Adam Silvera
YES!, I'll finally read this lovely book this month, I think it was about time, after it has been on my TBR since it was released. So I don't have much more to say, I'm just super excited to discover this story
---
---
What are you reading this week?
What have you finished reading?
Feel free to leave your comment below, I always love to know what you think

🙂
find me at