GUYS! I came back! I'm so excited to be back, I've missed you so so much. I hope you're having a great day and you're enjoying your readings, I also hope that you have had a very creepy Halloween, here where I live isn't a celebrated thing but I hope you had a lot of fun
For those who didn't know, I've been on vacation for the last 2 weeks of October and I've had a lot of fun, I've spent a few beautiful weeks with my family, my boyfriend and my friends, tanned myself on the beach was very relaxing and being honest I've been totally disconnected from the bookish world and I feel that I needed that rest to return renewed, you know?. I think it worked, because even though I had a fantastic time, I already started to miss this world alot. So here I am, ready to start.
Sadly I haven't managed to read a single thing in my vacations, I know, SHAME ON ME. But even so, I've managed to read 2 books this month which is not bad for me since one of them is huge and the other was absolutely fantastic, so without further ado let's start!
I'm sorry if I haven't answered some of your comments yet, I'll catch up with it immediately ❤ 
---
I've wanted to read since ever…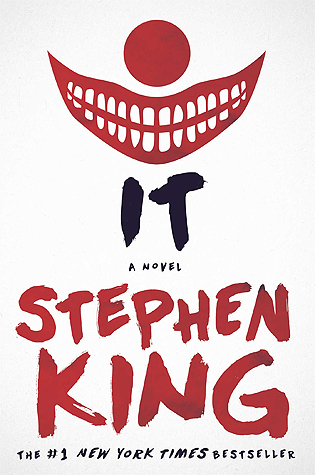 This book has always intimidated me a lot, but my best friend has told me so many times how much she loves Stephen King, that I just needed to try it, and what better time than in the month of the horror? Well, it was a long journey guys, this book is huge and super intimidating. Although I enjoyed it a lot, it was too disturbing and weird, I mean, I don't complain about that, I expected it to be! But there were some moments that are very difficult to understand, things that happen only because happen without any explanation or relevance to the main plot and that make me feel quite confused, even though I enjoyed the great writer imagination and I must highlight I never read anything as creepy as this one before. I feel that if you haven't read this book yet and you want to do so I warn you that it's too descriptive and this could be a problem for you as it becomes heavy at times, another warning is that have extremely disturbing scenes, scenes, that for sure, aren't for sensitive people. With this said, if you try I would love to know your opinion about it, since I've read mixed reviews, I consider it interesting to know what your think about it
It by Stephen King (3.5/5 Stars) REVIEW HERE
---
---
Surprising Book…
When I finished reading this book I was in shock, I cann't believe that even though everyone had recommended it to me I hadn't pick it up until now. It's incredibly good, this book is a combination of bad girls with a lot of suspense and mistery. It's written in a brilliant and addictive way, which makes the book very difficult to let down, when I started with it I didn't expect to love it as much as I did, it's that kind of book that hooks you from start to finish and you just want to know who did it!. I can't recommend it more, also if you're tired of the typical YA story this reading could be refreshing for you, since it has almost no romance, on the contrary is more focusing on family and friendship. In this book no one is what it seems so prepare yourself!
Little Monsters by Kara Thomas (5/5 Stars) REVIEW HERE
---
---
What has been your favorite reading of the month?
Feel free to leave your comment below, I always love to know what you think🙂