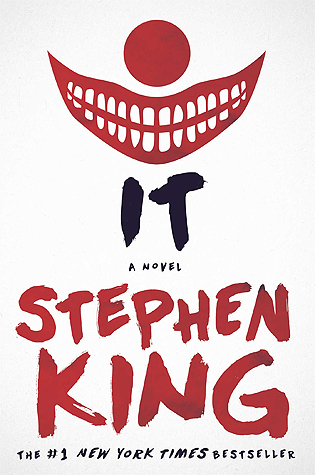 Title: It
By: Stephen King
Published: September 1986 (This Edition: January 5th 2016)
By: Scribner
Genre: Horror-Adult-Mystery-Dark-Paranormal
To the children, the town was their whole world. To the adults, knowing better, Derry, Maine was just their home town: familiar, well-ordered, a good place to live. It was the children who saw – and felt – what made Derry so horribly different. In the storm drains, in the sewers, It lurked, taking on the shape of every nightmare, each person's deepest dread. Sometimes It reached up, seizing, tearing, killing…

The adults, knowing better, knew nothing. Time passed and the children grew up, moved away. The horror of It was deep-buried, wrapped in forgetfulness. Until the grown-up children were called back, once more to confront It as It stirred and coiled in the sullen depths of their memories, reaching up again to make their past nightmares a terrible present reality.

Frightening, epic, and brilliant, Stephen King's It is one of the greatest works of a true storytelling master. 
---
---
It will be very difficult to describe this book, I know it's very loved and I can see why, and even though I've enjoyed it, King's writing style is not my cup of tea 
I will not tell you exactly what it's about because I think that at this point everyone knows and if you don't, it's really better if you only read it without previous information, because personally after seeing both movies I found myself very familiar with the plot and the surprise effect is lost a little
I decided to read the book because I love the movie of this year, I think it's brilliant. And although I had also seen the first movie, I had never felt like reading the book until now. It's also my first King's book which has meda me feel excited as well as fearful. I didn't expect to find the writing style so descriptive, and immediately that I get myself into it, I knew that his books were so long because of that.
I understand that the events descriptions are super important especially for a horror book where you have to feel surrounded by that mystery and suspense aura, and in fact, King is very successful in that aspect, even so, I found it a little excessive, and believe me that it was quite frustrating too, since after reading pages and pages I felt that I hadn't progressed yet, which has made me struggle to continue with it. 
The way in which the plot is told is a bit confusing at times, begins with the children being adults and from there we start to see the story of the past of each one separately and then together. This is how the story goes between past and present chapters. Although I was a bit lost in parts I think that once you get used to it, is a great way to tell the story and I think it's a smart kind of thing to use in horror. Personally I liked the chapters of them as children the most, as it go through the beginning of everything from the relationship between them until their first meetings with Pennywise. I also like that although it's a book that I personally found excessively long, there are chapters that are quite short and this makes it easier to continue reading, I think this is something that you might be interested to know, in case you are thinking of reading it 
One of the things I enjoyed most was the main characters, I love the different personalities that each has, how their experiences of lives make them what they are and then how they have progressed as adults. My favorite character is Ben, he's absolutely adorable and I love him so so so much lol. He's so brave and strong, I really admire his strength when it comes to living things as hard as he has to live.Not only Ben of course, all the characters go through shity situations at some point, but I have a weakness for this type of character, the typical overweight boy who has no friends and which bullies use for their entertainment, I just can't handle the situation and just wanted to protect him all the time.
It was hard enough to read some scenes but I feel that what is crude and real is also partly why this book is so scary or creepy, to think that, taking away the supernatural aspect, all these horrible situations happen all over the world is really creepy. Touchs super delicate topics from homophobia to abuse and family violence. I recommend to be cautious since some of you could find the descriptions of this book difficult to read.
Apart from that, there is a moment at the beginning of the book that happen after the boys actually find IT, and it's absolutely uncomfortable and disgusting. I was like "Are you serious?!". I still don't understand what was the point of that moment, even now as I write this makes me laugh because it was so weird and like WTF, I can't guys
Pennywise, on the other hand, is a brilliant character, I greatly admire the ability to create something so macabre and ruthless, it gives me chills to think about it. I was during the entire book waiting for his appearances because I think he's fantastic and the scenes in which he is, are the best, I can't say anything bad about this character, he's one of the best villains, maybe even one of the most evil that I've read
So, I recommend it if you like descriptive and atmospheric books, I think you'll enjoy it a lot, it's also highly creepy and I would never recommend it if you're very young, because the content really is very strong and graphic. Although it is not a 5 star I'm still very happy to finally have read a book by King and even happier to have read a book of over 1000 pages in less than a month, I'm proud of myself. I would like to try at some point in my life another book by the author and discover and learn more about what this genius keeps in his head.
---
---
Rating
3.5/5 Stars
---
---
Feel free to leave your comment below, I always love to know what you think

🙂
find me at