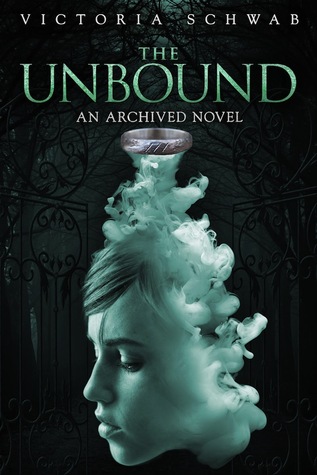 Title: The Unbound (The Archived #2)
By: Victoria Schwab
Published: January 28th 2014
By: Hyperion
Genre: Contemporary-Fantasy-YA-Paranormal
Imagine a place where the dead rest on shelves like books. Each body has a story to tell, a life seen in pictures that only Librarians can read. The dead are called Histories, and the vast realm in which they rest is the Archive.

Last summer, Mackenzie Bishop, a Keeper tasked with stopping violent Histories from escaping the Archive, almost lost her life to one. Now, as she starts her junior year at Hyde School, she's struggling to get her life back. But moving on isn't easy — not when her dreams are haunted by what happened. She knows the past is past, knows it cannot hurt her, but it feels so real, and when her nightmares begin to creep into her waking hours, she starts to wonder if she's really safe.

Meanwhile, people are vanishing without a trace, and the only thing they seem to have in common is Mackenzie. She's sure the Archive knows more than they are letting on, but before she can prove it, she becomes the prime suspect. And unless Mac can track down the real culprit, she'll lose everything, not only her role as Keeper, but her memories, and even her life. Can Mackenzie untangle the mystery before she herself unravels?

With stunning prose and a captivating mixture of action, romance, and horror, The Unbound delves into a richly imagined world where no choice is easy and love and loss feel like two sides of the same coin. 

Book Review:  The Archived #1
---
---
"The funny thing about armor is that it doesn't just keep other people out. It keeps us in. We build it up around us, not realizing that we're trapping ourselves."
Oh guys, I loved this book much more than the first one, so I'm very happy to have continued with the series, although I feel that it wasn't very smart of me, since now I want more and I've realized that there are no more books after this one for the moment and I'm just like WHY!?
Let's talk about this wonderful book, in this installment we'll see Mackenzie confronting her demons and being forced to make decisions that could change everything, including to The Archived itself. We see her battle against her own nightmares in which Owen appears to torture her and kill her inside them, but then Mack begins to have mental gaps and she start to wake up with wounds in his body; and with the Archive more and more over her everything begins to become more and more complicated 
This time I feel that it has been much darker than the previous one, we have alot of suspense and mystery moments, where I was like:"What the fuck is going on?!", I loved that, I really enjoy that the story is layers of wrapping me of the form in which it did, then surprise me and take me completely off guard.
I feel that what differentiates this book from the previous one, is that in this one begins to questioning The Archived alot and the reason of its actions, which I found super interesting. I enjoyed the most of the book, I would have liked to have more Da during the story, maybe in flashbacks, but even so I can't complain, the whole plot is told in a brilliant way and I feel that I probably enjoyed this second installment more due to that I already understand more this world and how it works, so it was easier to get into it than with the first one.
Owen is the evil character, you know, the one who comes to create problems, and although we knew him in the first book as the good guy who earns the Mackenzie's trust, I think that this time, you see how he no longer conceals his evil and his true personality so I liked him more, it's a very good character. He returns with this idea of being something like a "revolutionary" to change all the rules of the Archive, and with his incredible dialogues with Mack has won a very important place in this book. I also feel that he plants many doubts, lies and mysteries throughout the plot and this makes everything have that creepy vibe that I love!
I'm very pleased with the Mackenzie's growth during The Unbound, I feel that in the end she has grown a lot and although I've always known that she's brave, this time she really has shown that she can fend for herself. I have been able to see her in a more human and sensitive way than she was before, I think this change is a good thing because it makes me feel even closer to her 
I have to confess that Mack's relationship with Wesley isn't my favorite, I feel somewhat disoriented by the way they come and go, and eventually I get tired, I really don't get it lol. In this book I feel that Wesley is left aside and has been almost irrelevant, his presence wasn't indispensable according to my point of view and sometimes even I forgot that he was there, and although I liked him in the first book, I feel that definitely he's not one of my favorite characters
We have the integration of many new characters that contribute a lot to the plot, I feel that, as I said in the previous review of the first book, the secondary characters are splendid, I love them, I find them super diverse and entertaining, also their personal stories are very well told.
There's a lot of family drama in this installment, and I still don't know how I feel about Mack's mother, sometimes I don't understand her behavior.
Also we'll see how the world of the Archive begins to mix much more with the real world and although that makes that we see our main character lie even more, I feel that it has gone great and it gives much adrenaline and all this agreed with the creepy scenes was amazing !. I want to emphasize as always the Victoria Schwab writing style, so good!
It's a shame that there are no more books of the saga, I'm crazy to continue reading about this world, I also thought that the end has been too open and I think the story deserves a better closure
I highly recommend these books if you're looking for a fast, entertaining, dark and action-packed reading, also the characters are incredible 
---
---
Rating
4.5/5 Stars
---
---
Feel free to leave your comment below, I always love to know what you think

🙂
find me at