It's Monday! What Are You Reading? is a place to meet up and share what you have been, are and about to be reading over the week.  It's a great post to organise yourself. It's an opportunity to visit and comment, and er… add to that ever growing TBR pile! So welcome in everyone. This meme started with J Kaye's Blog   and then was taken up by Sheila from Book Journey. Sheila then passed it on to Kathryn at the Book Date. And here we are!
Hello loves !, I hope you're having a great start to the week, I know it is difficult to start after the weekend, so from here I send the best energies for you all !.
This past week I've been reading a lot, which you've probably already noticed because I've only uploaded reviews, but it's something that makes me very happy because besides to be with an excellent humor to read, also I feel very inspired when it comes to write my reviews and I find myself enjoying the process very much.
So I'm enjoying the moment and hoping that this mood will continue for the rest of the year, I want to thank you very much for the support you give me in each of my reviews with either a like or a comment , means everything to me and I want you to know that
Today I bring you the weekly meme "It's Monday! What Are You Reading?", which I love since it allows us to keep abreast of our recent and future readings, so without further ado let's start !!
---
---
WHAT I READ LAST WEEK
Odd & True 

by

 Cat Winters
Such a fantastic reading guys, the book not only has a great narrative but the sisterhood bond in this is very solid and it has been great to read about it. I think that the plot is very original and the jumps between the past and the future make the reading super fluid, and although I've enjoyed much more of Odd's point of view, how everything connects in the end is very good. I highly recommend it if you like fantasy, paranormal, with a creepy touch and if you want to read about a very nice sisterhood relationship
I'll leave my FULL REVIEW here in case you want to know more about it
---
Spellbook of the Lost and Found 

by

 Moïra Fowley-Doyle 
First of all, It's impossible for this cover to look bad on your shelf, it's so beauty guys. Second, I have to be honest, I gave 4 stars to this book and I thought to give it more too but I haven't done it because I feel that I've been influenced by the fact that it reminds me in many aspects of the The Raven Boys saga , I'm super guilty about that lol.
Even so, this doesn't mean that the book can't hold it by itself, it's a wonderful stand-alones with lots of magic, friendship and LGBT + characters. It has a mystery vibe that will catch you from the beginning, and although the number of characters in the book it has been a little too much for me, I think that also gives a great variety of personalities and makes the story incredibly diverse in that aspect . At times I was so hooked, it's very difficult to put it down and the plot twists are great!
I'll leave my FULL REVIEW here in case you want to know more about it
---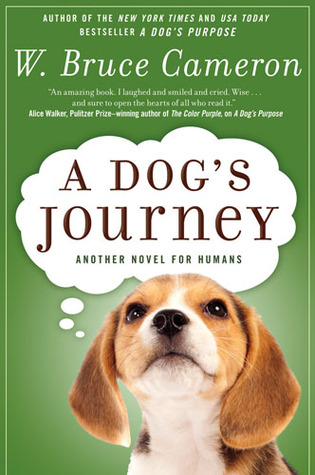 A Dog's Journey (A Dog's Purpose #2) 

by

 W. Bruce Cameron 
Oh this book is everything, I've read the duology this month but I only put this one because it's the one I read this last week. I have alot of feelings about these books and it's so difficult to express, I love them so much and it's that kind of story that will leave you something and you'll remember forever, I can't recommend it more especially if you are an animal lover, you have to read it, even so after reading them I think they are books that anyone can read and feel really committed to them.
I fell in love with this little dog and go through all these adventures and lives with him has been incredibly emotional, because besides knowing about him we also know and we are parts of all the lives that he's touching and all those human beings that he help in a way or another, it's wonderful, it may not be an easy book to read but it will be worth it, in fact I feel that if I think too much about it I could cry again, really.
I'll leave here my reviews of both books in case that you want to know more about it. A Dog's Purpose #1 / #2
---
---
WHAT I AM READING AT PRESENT
The Archived (The Archived #1) 

by

 Victoria Schwab
So far I like it a lot, I don't go much inside it, so I don't know how it will be for me, but I find it super mysterious and the plot is really interesting so we'll see
For now is the only book I'm reading but maybe grab another one soon, although I have a couple of ideas I'm not 100% sure …
---
---
UP NEXT
Firstlife (Everlife #1) 

by

 Gena Showalter
This is the only book left in my TBR for this month so I'm going to read it surely, and I'm really excited for the promise because sounds great and the cover is even more incredible lol. I can't wait to get deep into it, I feel that I'll like, fingers cross
Since I feel like I'm doing very well this month I'm sure that I going to read something more than just this one, even so I'm not sure which one it will be, maybe some ARC, but I'll keep you informed , since if I tell you right now I could change my mind later and I don't want to lie you, so that would be all for today babes 🙂
---
---
What are you reading this week?
What have you finished reading?
Feel free to leave your comment below, I always love to know what you think

🙂
find me at