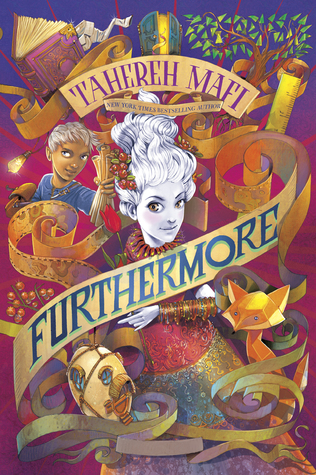 Title: Furthermore
By: Tahereh Mafi
Published: August 30th 2016
By: Dutton Books for Young Readers
Genre: Middle Grade-Fantasy-Magic
Alice Alexis Queensmeadow 12 rates three things most important: Mother, who wouldn't miss her; magic and color, which seem to elude her; and Father, who always loved her. Father disappeared from Ferenwood with only a ruler, almost three years ago. But she will have to travel through the mythical, dangerous land of Furthermore, where down can be up, paper is alive, and left can be both right and very, very wrong. Her only companion is Oliver whose own magic is based in lies and deceit. Alice must first find herself—and hold fast to the magic of love in the face of loss. 
---
---
"She'd decided long ago that life was a long journey. She would be strong and she would be weak, and both would be okay."
The Furthermore world is full of color and magic and has descriptions of the most precious I've ever read, I've enjoyed alot guys. And I'm not surprised that I liked it because I love the Tahereh writing style, she manages to turn any type of story into something fantastic, poetic and beautiful.
Furthermore it follows the story of Alice she's a girl who in a world where the most valuable thing is the color, she born completely colorless. And although everyone can see her anomaly, she thinks she's as valuable as anyone and she will fight to prove it, while she begins on a journey to find her father, who is lost since a few years ago, along with Oliver.
I really like Alice's character I think she's very original and to be just a litlle girl she's so strong, capable and daring and I really enjoyed reading about her and knowing her wishes and embarking on this great trip along with her. In addition, the genuine and super-sincere form she possesses to expressed herself is great.
I found it so hard the way her mother treats her and punishes her and mistreats her. I think it's really cruel and I don't agree with Alice at times because I feel like she tries to justify her mother's behavior. t was sad for me to see how she was practically alone in her daily life since her father isn't there anymore.
"Why must you look like the rest of us? Why do you have to be the one to change? Change the way we see. Don't change the way you are."
One of my favorite things is world building, it's just beautiful so bright and well explained, I really admire Taharah's ability to create something as unique and incredible as Ferenwood and its surroundings, it's been all an experience. Each page describes extraordinary and ostentatious places, so good.
The meaning of the magic and its function for the habitants of the place is great, it's one of those magical systems that really worth reading and I think everyone would like it, even so I would have liked more explanation about this while the story goes on, and I would have liked more development in terms of the magical talents of each character, even so it has a lot of potential and if it had developed a little more would have been perfect. 
Oliver is a character that cost me a little to trust in him at first, because the way in which appears in Alice's life and their history in the past but ended up being a good character, has a somewhat egocentric kind of personality at times but his relationship and hs dialogues with Alice are very entertaining, really love them.
"It was so much easier to fight for another than it was to fight for oneself."
I think that compared to the incredible journey that the characters undertake, the end has been a little short, I feel that I missed something or was very hasty, you know? , I still can't stop giving to the whole book all the merit that I can, because it shows so much the work that is put into it and I love that.
I highly recommend it if you're looking for a Fantasy Middle Grade with an amazing and whimsical world building, full of magic and colors. Simply if you want to fill your heart with sensational landscapes and daring characters, you have to read it! 
---
---
Rating
4/5 Stars
---
---
Feel free to leave your comment below, I always love to know what you think

🙂
find me at