Hi babes! I hope you're having a beautiful weekend. I've seen this tag a lot for a while now, and I've always wanted to do it, in fact, I thought I already did this tag but checking in my blog I noticed that I don't !, so I think it's a very good opportunity to do it once and for all, I hope you enjoy it guys!
You can find the video of the original tag HERE, in case you want to check it out
---
---
A Popular Book or series that you didn't like
Truthwitch (The Witchlands #1)

by

 Susan Dennard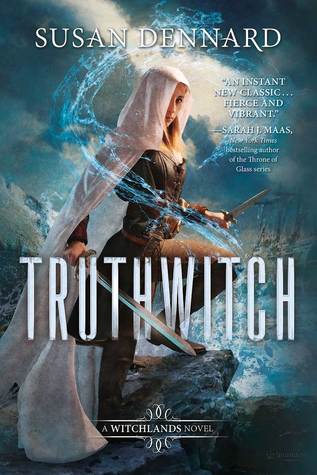 This probably is not a surprise for the majority of you, since a few days ago I uploaded my review about it, so yeah , it wasn't what I was hoping for, it's a confusing book that could have been fantastic but didn't meet my expectations
---
---
 A Popular Book or series that every one else seems to hate but you love
Eve (Eve #1) 

by

 Anna Carey
I don't know if there are many people who hate this trilogy but I know it is not well known as it should be, this is one of my favorite trilogies and I think it's a great dystopia book about survival and have alot of action, I love these books and I think they deserve a greater recognition
---
---
 A Love Triangle where the main character ended up with the person you did NOT want them to end up with (warn ppl for spoilers) OR an OTP that you don't like
Shadow and Bone (Shadow and Bone #1)

by

 Leigh Bardugo
I love these books so much and I love Alina, but I can't stand Mal so I'm not a big fan of the couple
---
---
A popular book Genre that you hardly reach for
Maybe I choose Classics or Historical Fiction, although I'm trying to get more into the genres, I think they are the ones that I least like and with what I find most hard to compromise me when it comes to reading them
---
---
A popular or beloved character that you do not like
Eleanor & Park 

by

 Rainbow Rowell
Probably there are other characters out there that I can't stand but right now only Eleanor comes to my mind and I feel like she's a character so irritating, I really don't like her and another great unpopular opinion is that I don't like this book like at all, and I suppose Eleanor Is the main reason, her personality have simply made of her a character that I don't want to read about again
---
---
A popular author that you can't seem to get into
Well this has to do with the previous one because the writer I've tried several times and it seems not to be for me is Rainbow Rowell, I didn't like Eleanor & Park and I didn't like Fangirl, I really try but I can't get into her writing style and I end up getting very bored, also it seems to me that her books have many pages and nothing ever happens, it's simply not for me, at least I try
---
---
A popular book trope that you're tired of seeing. (examples "lost princess", corrupt ruler, love triangles, etc.)
I had to think a lot about this because I don't know if there is something that really annoys me, maybe the love triangles or the main character who is beautiful, but doesn't know it lol. Even if the book is incredible none of that really bothers me
---
---
A popular series that you have no interest in reading
A Game of Thrones (A Song of Ice and Fire #1)

by

 George R.R. Martin
I love the TV series, in fact it's one of my favorites but I'm not interested in reading the books and they're quite intimidating so I'll might never do it
---
---
The saying goes "The book is always better than the movie", but what movie or T.V. show adaptation do you prefer more than the book?
Before I Fall 

by

 Lauren Oliver
I totally prefer the movie to the book, I saw it a short time ago and enjoyed it a lot but I didn't like the book unfortunately
---
---
Thanks so much for read the tag, I hope you enjoyed it
I would love to see you all doing it, at some point. I'd love to hear your answers
Leave your comments below, I always love to know what you think
find me at