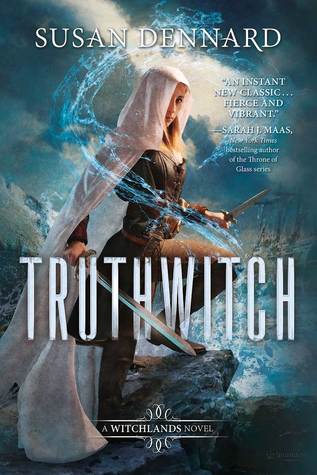 Title: Truthwitch
By: Susan Dennard
Published : January 5th 2016
By: Tor Teen
Genre: YA-Fantasy-Paranormal-Magic
In a continent on the edge of war, two witches hold its fate in their hands.

Young witches Safiya and Iseult have a habit of finding trouble. After clashing with a powerful Guildmaster and his ruthless Bloodwitch bodyguard, the friends are forced to flee their home.

Safi must avoid capture at all costs as she's a rare Truthwitch, able to discern truth from lies. Many would kill for her magic, so Safi must keep it hidden – lest she be used in the struggle between empires. And Iseult's true powers are hidden even from herself.

In a chance encounter at Court, Safi meets Prince Merik and makes him a reluctant ally. However, his help may not slow down the Bloodwitch now hot on the girls' heels. All Safi and Iseult want is their freedom, but danger lies ahead. With war coming, treaties breaking and a magical contagion sweeping the land, the friends will have to fight emperors and mercenaries alike. For some will stop at nothing to get their hands on a Truthwitch.
---
---
Okay, I think this will be an unpopular opinion. This book has so much hype that I really thought I would love it, that's always a problem for me since I don't always like books that others love, in half I thought I was hooking myself but then I started to get bored a lot, I struggle to finish it and my brain hurts so we talk about it 
It's so difficult to choose where to start talking, I'll try to be as brief and orderly as possible to be clear, I really wanted to like this book , REALLY, I've seen many incredible reviews about it, in fact in Goodreads is full of them, which is why I believe that I'm the only person who has had problems with it and that makes me feel super bad!
I want to be clear before continuing: My review is not meant to offend anyone neither those who love the book or her author. 
My first impression was OMG there are so many difficult names and definitions here, but it's normal in this type of fantasy book, so I thought there would come a point where I wouldn't bother about, that point never came guys, I was trying to remember every kind of witch and every name of world places and characters, was very difficult
I would say that my main problem was that I was VERY CONFUSED, I don't think this is well explained, I think the author treats this book as if it were a sequel where the reader should already know everything about the world and everything about the magic system, because I didn't see anything well explained here. The story talks about a war that is to come and how inevitable this is, but I need to know more, I mean,Why war is inevitable?, What's the reason for ? , I can't just figuret out something for myself, I just needed more information to feel really absorbed into this world, the plot and understand a little more of the actions of the characters
I think that the world building is very poor, and again, I need more information!. We have a beautiful map ahead and that's great, but what else? , I need to know what kind of world they live on, their beliefs, customs, descriptions of landscapes, anything!. Also I was waiting for her to explain which races were friends of which ones and which ones enemys and why. Iseult also comes from a kind of tribe, which I think it's really interesting but I don't know why everyone hates her, OMG so many questions
Everything that has to do with the types of witches and their specialties was very interesting, even though I didn't think it was well explained, we have a lot of incredible races but I don't know exactly where they come from, how do they originate ?, if they're all witches or some people aren't. I was with a lot of names as Trhuthwitch or Bloodwitch and more and thought "That is so great" but at the same time I can't know everything just with a name, I mean, I can't guess what each one does, what their abilities are or what their weaknesses
One of the main reasons why I wanted to read this book was because of the number of people who had told me about the great relationship of friendship between the main characters and well the thing is, when the girls were separated and could see how they needed at each other, that was really cute, I liked it, but there are moments that I don't understand that binds them besides being Threadsisters, what I understand here is that being Thredsisters unites them as sisters, right? But what makes them really friends? When they're together I don't see the strong connection that everyone talks about and the characters only highlight the importance of being together when they're separated so I don't know, it wasn't convincing for me
I think that the reason why I finished the book was Aeudon, I really liked this character and if there will be a whole book about him, I would read it, I think the chapters where he was the protagonist were very interesting, is a dark character and being the villain was very interesting to read and be inside his mind and know his thoughts
The plot is basically about Safiya (whom I couldn't stand) and how they all try to capture her because I think she's the last Truthwitch so together with Iseult they escape and fight and escape (again) to avoid being captured, meanwhile we know other characters but there really isn't that much more and if there would be a solid explanation about the magic system or the construction of the world I wouldn't have minded, but it was simply very boring for me. And I think that feeling bored is the worst thing for a reader
I think that I would try something more of the author because I really want to give it another chance, I feel that if so many people love her work, it should be for something so I will not surrender, only this book wasn't made for me and I don't think I'm interested in continuing the saga 
---
---
Rating
2/5 Stars
---
---
Feel free to leave your comment below, I always love to know what you think

🙂
find me at