Hi guys, I hope you're having a great weekend, today I bring you my June Wrap Up, where I tell you about my readings of the month.
This month I read 6 books, which isn't bad, I'm happy with the number, I expected to read more but still okay. This month I've mixed a variety of different genres in my readings and that has turned out to be refreshing, I have made great progress with my Arcs this month which is great, I've had mixed feelings about most of them, but I've also found a favorite this month which makes me so happy !.
I'm currently reading Ice Like Fire the second book in the Snow Like Ashes trilogy, and I'm not sure about it, I really thought I'd finish it before the end of the month but it's taking a long time to get into the story, from what I'm sure,so far, is that it doesn't be better than the first one, but I'll still try to continue with it and I'll tell you
So without further ado we're going to start!
---
Netgalley Arcs
This is the second book of the Collector's trilogy, I love the first book (The Butterfly Garden) is incredible, so I had great expectations for the second one and I'm afraid to say that I'm a bit disappointed, it was not at all what I expected, doesn't include many of the characters of the first book so I couldn't hook up so easily, even so I recommend it if you want a great reading of mystery and murder because the writer is great, but I warn you if you have read the first book and you hope that this one is related to it then isn't what you'll have
Roses of May (The Collector #2) by Dot Hutchison (3/5 Stars) REVIEW HERE
---
This has been a beautiful reading, full of feelings so deep and fun at the same time. I didn't expect that I liked it so much, I had heard good things about it but I don't usually like the same things as the others, so I had my doubts, but once I started with it I couldn't put it down, it's very easy to read and the variety of characters is very entertaining, I recommend it very much, also the moments of improvement and love are very beautiful, undertake this journey together with Juniper was great
Juniper Lemon's Happiness Index by Julie Israel (4.5/5 Stars) REVIEW HERE
---
The genre of this book supposes to be YA but it has been more a Middle Grade for me, I've enjoyed it a lot, it's historical fiction too and I always love being able to find this genre and enjoy it, it's a great book if you have just started with the genre because it's very easy to enter in, is a story full of magic and demons, also is located in Tuscany which was beautiful to read about, the aspect of the adventure and the characters were well developed although I would have liked a little bit more, it's a great book that I think doesn't have the recognition it deserves
The Book of Whispers by Kimberley Starr (4/5 Stars) REVIEW HERE
---
This is the last book that I've read in the month, and although the idea is good and the plot might have worked but the main character has been a serious problem for me and all her totally meaningless behaviors she has, have turned it into a book which I haven't been able to enjoy, in fact I couldn't stand this character, almost DNF this book because of her but pushed myself to finish it because I wanted to write a fair review about it. I want to highlight that the writer touches important issues like abuse, bullying, indifference, racism, and depression. Even so it has certainly not been the book for me
The Lives of Desperate Girls by MacKenzie Common (2/5) Stars REVIEW HERE
---
More Great Readings
This has been such a pleasant surprise for me, I had so many doubts to be a genre that I never read, even so I enter into it and I've enjoyed it a lot, it's a book of murders and mystery that keeps you wanting more, the characters are like taken from a tv show, which I found super entertaining, I felt like I was watching all that happened, really addictive. Also I must say that this book has inspired me to read more about the genre. I'm very interested in continuing to read the series because I'm dying to know more about the characters
The Girl In The Ice (Detective Erika Foster #1) by Robert Bryndza (4.25/5) Stars REVIEW HERE
---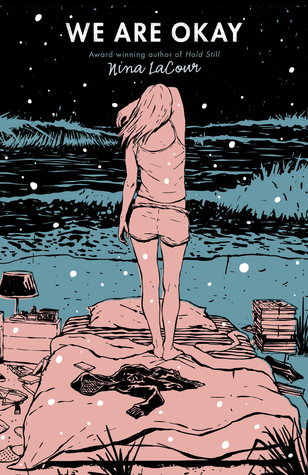 OMG this book, not only my favorite of the month but one of my favorites of the year, is a short book but the content is a lot, it's so emotional and you will have your feelings everywhere. I find in this book a story so inspiring and heartbreaking, about loss, self-improvement, self discovery, about the meaning of the family, destiny, love, friendship, just have it all, and I've been shedding tears because it's Just too beautiful. I recommend to everyone, it should be a must read . I'm dying to read it again, although it has been hard at times, it has also been fantastic at the end
We Are Okay by Nina LaCour (5/5) Stars REVIEW HERE
---
---
What has been your favorite reading of the month?
Feel free to leave your comment below, I always love to know what you think

🙂