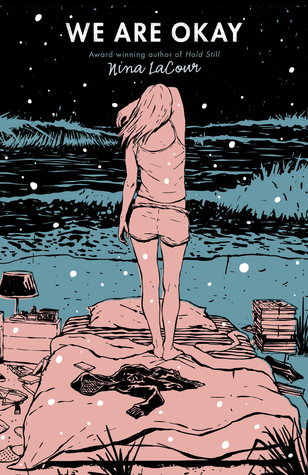 Title: We Are Okay
By: Nina LaCour
Published: February 14th 2017
By: Dutton Books for Young Readers
Genre: YA-Contemporary-Family-Romance-Favorite-LGBT+
You go through life thinking there's so much you need…

Until you leave with only your phone, your wallet, and a picture of your mother.

Marin hasn't spoken to anyone from her old life since the day she left everything behind. No one knows the truth about those final weeks. Not even her best friend, Mabel. But even thousands of miles away from the California coast, at college in New York, Marin still feels the pull of the life and tragedy she's tried to outrun. Now, months later, alone in an emptied dorm for winter break, Marin waits. Mabel is coming to visit, and Marin will be forced to face everything that's been left unsaid and finally confront the loneliness that has made a home in her heart.
---
---
"I was okay just a moment ago. I will learn how to be okay again."

I love, I love, I love, I love this book, I don't know if I'll be able to express it with words, but I feel so happy to have decided to go for it, it's a new favorite and a reading that will stay with me for a long time
This is the story of Marin, a young woman who after living a tragedy in her life, of which no one knows what has happened, she decides to escape from that, leave everything behind and settling in New York, where later she'll begin college. But one day her best friend Mabel decides to visit her and Marin will be forced to face the truth of her past and many secrets will come to light.
This is a story of loss, overcoming, self-acceptance, family, love, sexuality, identity, touches so many issues, all this makes this book super rich in content, and makes it recommendable for everyone, I wish everyone give it a chance at some point, it's short but so deep, it's touched my heart. It certainly hasn't been a light reading for me, but I don't say it from the bad side of that, because it hasn't been heavy to read, I just had to put the book down several times because I was so overwhelmed by all the feelings that I just couldn't read it in one sitting, although I consider that it is super possible because it's very addictive
I had all these feelings surrounding me as the story focuses a lot on the relationship of Marin with his grandfather, who is the person with whom she has lived most of her life since her mother died when she was just a girl, he's everything what she knows.
This type of plot always touches my weakness that is my relationship with my grandfather, my grandfather was and will be the most important and incredible man of my life, not only raised me as a father, but in the 9 years that has been in my life has instilled me with all the values I own today, sometimes it's so unreal that he haven't been in my life for 14 years, it's crazy for me, I still feel him every day with me in every moment I need it. I don't want to get all sentimental but I think it's important to explain it because that's why this story has touched me so deeply
The writing style is beautiful, guys, I've found it so poetic and deep, but also simple and it goes straight to the point. I've been left with many amazing quotes here, I'm really excited to read another book by the author right now. All the time I had the feeling of being in Marin's place and how she expresses herself, what she thinks, the depression in which she falls, how she feels every day and how she deal with situations, everything has been of the most interesting and intriguing thing to read. Yes, her actions can be questionable, we all deal with loss in different ways, yet at the end I understood the reason for her actions and I've really been able to put myself in her place and this is all merit of this great writer who has created characters so real that you'll love them, the way they express themselves so clearly and how they think so deep and real was incredible
Marin is a main character who has gone through a lot, her whole life has wanted to answers and never received them for what she deals with alot, her love for her grandfather and they so peculiar way to coexist , has been interesting to read, I really like how she respects him and even though she struggles internally with many feelings and thoughts found about him, it has always been so natural for her to be around him, even so when others have questioned it, this proves how big her respect was and love towards her grandfather. I don't justify the actions of Grandpa, I feel he should have been different with respect to Marin and his childhood, even though he's an adorable character at times and tormented by others, it's very interesting to know his mind and being a man who has been through so much in his life, after the death of his daughter and his wife, I can understand how it has become so hard and closed
I ship a lot the relationship between Mabel and Marin, I love this relationship, not only from the romance that unfolds but also from the friendship and the union between them,it's very nice to see how Mabel after all that Marin has done, even is there for her and seeks to comfort her and understand her and guide her on the right path , the end of these two may not have been what I expected but it was still perfect, I see a great future here and even if it isn't in a romantic way I know they will be with each other. I want to briefly highlight how amazing and sweet Mabel's parents are !. OMG they're the best parents in history and their support for Marin is admirable and so sincere, I love them
At the end when everything is triggered and Marin can open with Mabel and tell her everything she has had to live in those months where no one has heard from her, things she has discovered that have broken her very deeply, is touching, I have shed some tears because it's really heartbreaking, I feel that she was so overwhelmed and even if she denied it, she needed so much to talk to someone, and when she really did it was like Wow, I was very surprised by everything that had happened and I feel there is so much to analyze, it's amazing
The plot is told between the past and the present so that the stories are perfectly combined until the end, I've loved that
So I'm sorry that this is so long, but I had many feelings, I still have them, like alot lol. I've tried to put here the main ones, but I can't say more than just READ THIS BOOK, you'll love it, personally I've found a new favorite and I'll love to re-read it sometime, it's touching and touches so many important subjects, I would love to know your thoughts about it
---
---
Rating
5/5 Stars
---
---
Feel free to leave your comment below, I always love to know what you think

🙂
find me at