It's Monday! What Are You Reading? is a place to meet up and share what you have been, are and about to be reading over the week.  It's a great post to organise yourself. It's an opportunity to visit and comment, and er… add to that ever growing TBR pile! So welcome in everyone. This meme started with J Kaye's Blog   and then was taken up by Sheila from Book Journey. Sheila then passed it on to Kathryn at the Book Date. And here we are!
Hi guys!, I hope everyone had a great weekend and an even better start of the week.
I found this book meme and it seemed a great idea to start doing it in the beginning of the week to talk about what we will be reading during the week and what we have already read, so let's start 😀
---
WHAT I READ LAST WEEK
Juniper Lemon's Happiness Index by Julie Israel
I'm so happy to have decided to read this book, and as always thanks to NetGally I could do it, not only I found a light , funny and catchy reading but also that I've met with a deep and important subject, was everything what I was looking for in a book at the time and I recommend it a lot, it may contain some cliche characters but I'm sure that will not stop you from enjoying the plot, where Juniper embarked on a journey to find a stranger in memory of her sister, but ends up finding herself
I'll leave my FULL REVIEW in case you want to know more about it
---
WHAT I AM READING AT PRESENT
The Book of Whispers by Kimberley Starr
I'm currently about 157 pages of it , it starts with a lot of tension and has continued that way, it's the story of Luca who has the ability to see demons and being a historical fiction the whole thing reminds me of The Infernal Devices, so that means I'm enjoying it, things are just starting to get complicated enough so it has me hooked and I can't wait to know what will happen. This is a Stand-Alone or at least I haven't found any other book like to be part of a series so I'm even more interested, since aren't many Fantasy Stand- alone out there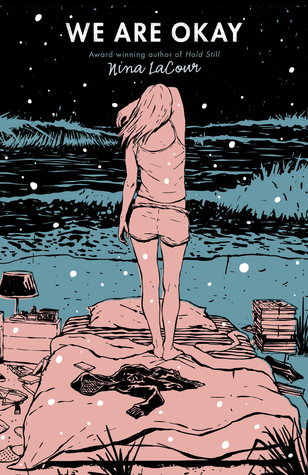 We Are Okay by Nina LaCour
I was like,"I'm just going to read this book if I've time left in the month, because I've many things I need to read right now", well, I couldn't contain myself, I really feel in the mood to go for it and I've just started so I don't have an opinion yet, I just feel it will be a strong story and probably touch my feelings. Plus: It's on the cover guys, it's so beautiful and creative!
---
UP NEXT
I have 2 options and I'll probably go for both though I don't know which one first, I'll see that, the chosen ones are
Ice Like Fire (Snow Like Ashes #2) by Sara Raasch
I want to continue with this series so much! I love the first book so there is not much to say about it, I just dying to get into this incredible world again and know what will happen!
I'll leave you MY REVIEW of the first book Snow Like Ashes, in case you are interested in knowing more about it
I Have No Secrets by Penny Joelson
I've win this book on a giveaway, (and I never win so YAY!), I'm intrigued since I read the synopsis, I think it sounds super weird lol, but in the best way, I mean, I really want to find out what goes on, I hope I can start with it as soon as possible and I'll tell you what I think
---
---
What are you reading this week?
What have you finished reading?
Feel free to leave your comment below, I always love to know what you think

🙂
find me at