Hi guys! I hope you're well and have had a great start of the week. Today I bring you my May Wrap Up, where I tell you about my readings of the month, so let's start.
In this month I had a very ambitious TBR, where I plan to finish a couple of Arcs I owned and other books, in total there were 7 for this month and I'm so happy to tell you that I've succeeded !, I've been able to reading 7 books ,not all of them were in my tbr , because I've changed some, I'll tell you later which are they have been and why
I'm very proud of myself for the amount I've achieved this month, but I am more happy for the quality of my reading, since of 7 books, 6 have been incredible and super recommendable, so without further ado, I'll show you what I'm talking about, let's do it !
Netgalley Arcs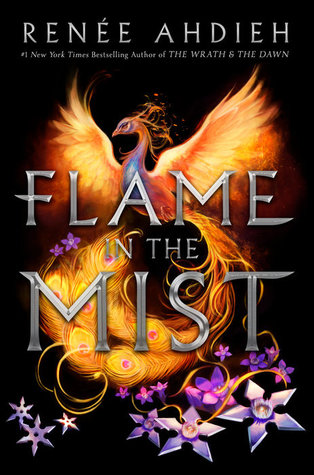 I was so excited and grateful when Netgalley approved me with this gorgeous book! , I've enjoyed it a lot, it's a story of adventure, inner strength and independence, I think it has been a wonderfull thing and although it was hard to me to get into it , due to the amount of words belonging to Japanese culture and its mythology, in the end has been an incredible reading, and I hope that if you haven't read this Mulan's retelling yet, you can do it soon, I'm dying to have the next one right now !.
I'll leave you here below my full review in case you're interested in knowing more about it
Flame in the Mist (Flame in the Mist #1) by Renee Ahdieh (4.5/5 Stars) REVIEW HERE
OMG this book simply left me speechless when I finished it, in fact after that and even when days happened, I still couldn't stop thinking about it. It has been a great revelation for me, since I didn't expect at all to feel so many emotions, but I did it and leaves me with bittersweet taste, somewhat harrowing, even so it's unforgettable and I recommend to you 100%, I know that many people are somewhat annoyed by the repetitions that the book contains, but because of the illness of Flora who doesn't remember more than a few minutes, then it's super understandable to her to repeat things, I think if you manage to put yourself in her place instead, then you'll enjoy her journey, and their search for truth.
I'll leave my review below in case you're interested in reading my thoughts and knowing in more depth way about the book
The One Memory of Flora Banks by Emily Barr (5/5 Stars) REVIEW HERE
I saw this beautiful cover in Netgalley and I couldn't resist it, I had to read it !, and when it was provided to me I was so excited, then I saw that it had only 56 pages or so and I was so surprised, ie, I knew I couldn't really go into in the story with so little to read, even so I thought it could be good and sorprise me, finally guys, that didn't happen, I didn't like this story at all, has a great main character, very bold and extroverted, but it wasn't enough. This has been a test for me that the beautiful covers aren't always good stories yet I'm not ashamed of anything, I can't help it !, I love covers lol.
Although this reading hasn't been for me, nor has it been close to what I expected, I think it's a good idea if you're thinking about participating in some readathon or if you want to read something fast, if you like fairy tales you probably like it .
I will leave you my review in case you want to know in more detail that was what I didn't like about this book
The Loveless Princess by Lilian Bodley (2.5/5 Stars) REVIEW HERE
---
More AMAZING Readings!
I finally read it!, after postponing this book without any reason for months, I finally read it and guys has been AMAZING, totally worth it.
One of the most important things to highlight that I noticed in the book is its world building . It's not only beautiful, but it's one of the best and most original worlds of which I've read in fantasy. The characters are great and go with them on their great journey to recover their Winter Kingdom has been a pleasure. I can't wait to continue with this trilogue on this next month
I leave my review below in case you want to know more about my thoughts about it
Snow Like Ashes (Snow Like Ashes #1) by Sara Raasch (4.5/5 Stars) REVIEW HERE
Of course I continue with the Percy saga and in this third book I have alot of fun, although I haven't had Annabeth as much as I would have liked, even so we know many new characters that give to plot a lot of fun, action and new friends, I love it as always and I hope to continue soon. I know that I said in my May TBR that I would also read the fourth book, but I've not been able to do it yet, so reading it's in my plans.
I emphasize the points that I liked more of the book in my review below
The Titan's Curse (Percy Jackson and the Olympians #3) by Rick Riordan (4.5/5 Stars) SHORT REVIEW HERE
THE SWEETEST READ EVER!
Adore this book and how light it's to read, is like that breath of fresh air that every reader sometimes needs. It's a retelling of Cinderella that you have to read, it's so magical and adorable, the mix of the traditional fairy tale with the Geek world is the most original thing I've ever seen, I loved it
I can't tell you much more beacuse spoilers, so I invite you to read this wonderful book full of friendship, love and super crazy geek fans that you love
I will leave here below my complete review if you are interested in knowing more about it
Geekerella by Ashley Poston (5/5 Stars) REVIEW HERE
This book tells a great story of survivors, it really isn't what I would choose to read, but when the author communicates with me to review , caught my attention immediately. I finished enjoying it a lot, has a great dose of mystery and what it's looking for is to get into the head of each character and you can see how each of the characters grapple with the pain of loss and the struggle to overcome it, is super interesting, so if you are looking for a quick but deep reading this is the indicated one
Feel Me Fall by James Morris (4/5 Stars) REVIEW HERE
---
---
What has been your favorite reading of the month?
Feel free to leave your comment below, I always love to know what you think