Hello everyone! I hope you are having a great Friday babes!.
Today I bring you a meme that I have found by mollysbooknook and is hosted by booksandabeat
I haven't uploaded this kind of meme since last year, omg what is wrong with me lol, I should be more consistent with this type of weekly meme because it's super fun and I love reading them on other blogs, so I have to work on it, I promise
ok then, This is about share what books you added to your TBR (purchased or not).
What I'll do is show you my top 5 books that I have recently added to my TBR !. LET'S DO IT!.
---
Golden Boy by Abigail Tarttelin
Max Walker: blue-eyed boy or girl next door?

To the outside world, Max Walker is a golden boy: a loving son and brother, the perfect student, captain of the football team and every girl's dream boyfriend.

But Max was born intersex – neither fully boy nor fully girl. Now something terrible has happened to him, the consequences of which have left him questioning his true identity.

Can the people around him – his girlfriend, his classmates, his ambitious parents – accept him for who he is? Or will Max's secret life tear his world apart?
---
The Upside of Unrequited by Becky Albertalli
Seventeen-year-old Molly Peskin-Suso knows all about unrequited love. No matter how many times her twin sister, Cassie, tells her to woman up, Molly can't stomach the idea of rejection. So she's careful. Fat girls always have to be careful.

Then a cute new girl enters Cassie's orbit, and for the first time ever, Molly's cynical twin is a lovesick mess. Meanwhile, Molly's totally not dying of loneliness—except for the part where she is. Luckily, Cassie's new girlfriend comes with a cute hipster-boy sidekick. If Molly can win him over, she'll get her first kiss and she'll get her twin back.

There's only one problem: Molly's coworker, Reid. He's a chubby Tolkien superfan with a season pass to the Ren Faire, and there's absolutely no way Molly could fall for him.

Right?
---
Geekerella by Ashley Poston
Cinderella goes to the con in this fandom-fueled twist on the classic fairy tale.

Geek girl Elle Wittimer lives and breathes Starfield, the classic sci-fi series she grew up watching with her late father. So when she sees a cosplay contest for a new Starfield movie, she has to enter. The prize? An invitation to the ExcelsiCon Cosplay Ball, and a meet-and-greet with the actor slated to play Federation Prince Carmindor in the reboot. With savings from her gig at the Magic Pumpkin food truck (and her dad's old costume), Elle's determined to win unless her stepsisters get there first.

Teen actor Darien Freeman used to live for cons before he was famous. Now they re nothing but autographs and awkward meet-and-greets. Playing Carmindor is all he's ever wanted, but the Starfieldfandom has written him off as just another dumb heartthrob. As ExcelsiCon draws near, Darien feels more and more like a fake until he meets a girl who shows him otherwise.

Part romance, part love letter to nerd culture, and all totally adorbs, Geekerella is a fairy tale for anyone who believes in the magic of fandom."
---
Norse Mythology by Neil Gaiman
Introducing an instant classic—master storyteller Neil Gaiman presents a dazzling version of the great Norse myths.

Neil Gaiman has long been inspired by ancient mythology in creating the fantastical realms of his fiction. Now he turns his attention back to the source, presenting a bravura rendition of the great northern tales.

In Norse Mythology, Gaiman stays true to the myths in envisioning the major Norse pantheon: Odin, the highest of the high, wise, daring, and cunning; Thor, Odin's son, incredibly strong yet not the wisest of gods; and Loki, son of a giant, blood brother to Odin and a trickster and unsurpassable manipulator.

Gaiman fashions these primeval stories into a novelistic arc that begins with the genesis of the legendary nine worlds and delves into the exploits of deities, dwarfs, and giants. Once, when Thor's hammer is stolen, Thor must disguise himself as a woman, difficult with his beard and huge appetite, to steal it back. More poignant is the tale in which the blood of Kvasir, the most sagacious of gods, is turned into a mead that infuses drinkers with poetry. The work culminates in Ragnarok, the twilight of the gods and rebirth of a new time and people.

Through Gaiman's deft and witty prose emerge these gods with their fiercely competitive natures, their susceptibility to being duped and to duping others, and their tendency to let passion ignite their actions, making these long-ago myths breathe pungent life again.
---
Goodbye Days by Jeff Zentner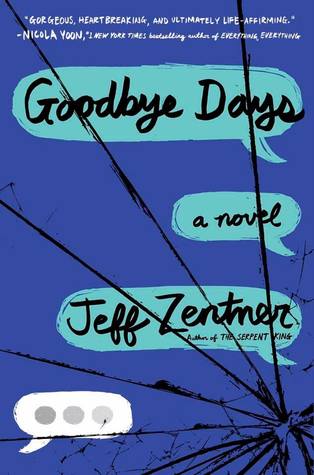 What if you could spend one last day with someone you lost?

One day Carver Briggs had it all—three best friends, a supportive family, and a reputation as a talented writer at his high school, Nashville Academy for the Arts.

The next day he lost it all when he sent a simple text to his friend Mars, right before Mars, Eli, and Blake were killed in a car crash.

Now Carver can't stop blaming himself for the accident, and he's not the only one. Eli's twin sister is trying to freeze him out of school with her death-ray stare. And Mars's father, a powerful judge, is pressuring the district attorney to open a criminal investigation into Carver's actions.

Luckily, Carver has some unexpected allies: Eli's girlfriend, the only person to stand by him at school; Dr. Mendez, his new therapist; and Blake's grandmother, who asks Carver to spend a Goodbye Day with her to share their memories and say a proper goodbye to his friend.

Soon the other families are asking for a Goodbye Day with Carver, but he's unsure of their motives. Will they all be able to make peace with their losses, or will these Goodbye Days bring Carver one step closer to a complete breakdown or—even worse—prison?
---
---
Have you read any of them?




Do you want read any of them?
Feel free to leave your comment below, I always love to know what you think