Title: The Lightning Thief (Percy Jackson and the Olympians #1)
By: Rick Riordan
Published: June 28th 2005
By: Disney Hyperion Books
Genre: Fantasy- Middle-Grade-Mythology
Percy Jackson is a good kid, but he can't seem to focus on his schoolwork or control his temper. And lately, being away at boarding school is only getting worse—Percy could have sworn his pre-algebra teacher turned into a monster and tried to kill him. When Percy's mom finds out, she knows it's time that he knew the truth about where he came from, and that he go to the one place he'll be safe. She sends Percy to Camp Half Blood, a summer camp for demigods (on Long Island), where he learns that the father he never knew is Poseidon, God of the Sea. Soon a mystery unfolds and together with his friends—one a satyr and the other the demigod daughter of Athena—Percy sets out on a quest across the United States to reach the gates of the Underworld (located in a recording studio in Hollywood) and prevent a catastrophic war between the gods.
---
---
"If my life is going to mean anything, I have to live it myself."
Wow guys, I really love this book, I had the feeling I would like it since I love Greek mythology and this series is full of that, but I didn't expect that I liked the characters as much as they did, it's an unique magical world. SUPER FUN!
I think by now everybody knows what the series is about, but even so I let you a little summary, for those who may not yet know it and may be interested in giving it a try.
The book follows this boy of 12 years old named Percy Jackson, he's a problematic boy with attention problems, to which his mother always is forced to change of school, suddenly these mythological creatures begin to want to attack him and what Percy believes is product of his imagination becomes very a real and serius thing, this is when he has a car accident with his mother and is forced to flee, with the help of his best friend Grover (who is actually a satyr), to a camp where Percy discovers that he's not only sought by a crime that he didn't commit but also that he's the son of a Greek God which makes him a demigod. And from here the story unfolds ..

I've enjoyed reading this alot, I think it's light and very quick to read, which makes sense, since it's originally a children's book, but I think Rick has been able to create a catchy and funny story that has overcome the ages barrier, any kind of person ,children, teen or adults may be able to enjoy and love these books, which is fantastic

"Humans see what they want to see."
Percy is a great main character, in the beginning I thought he was a little rude and had this rebellious attitude but right away you know all his story and what he really is, you can understand his attitudes, he's very brave and I've found him adorable, I think he has been able to handle the circumstances in a very mature way for his age and making the right decisions. I really ended up loving Percy and I'm very excited to be able to witness his growth and learning through books. Besides, I love the relationship he has with his mother. It's very beautiful to see how he thinks about her and to see how they love each other. It was very beautiful for me.
Oh Annabeth I love how strong, decisive and independent she is, you can easily see how much she knows about the myths and how much she admires the gods, I think she gives us that perspective of someone who has lived almost all her life with the knowledge of being a demigod in the camp and her experiences as much as Grover's have made to Percy more aware and alert about their decisions and the responsibility they carry. The friendship of Anna with Percy was growing very slowly and I've enjoyed to see how it was being built in the course of the book
Grover is so incredible, I've adored him from the first moment, is a great friend and proves it on countless occasions and despite the fact that he has been given the care of Percy as a responsibility, as the plot goes by you can say that he would have done it anyway, he has a very pure, innocent and warm soul, I really want to know more about this character, I hope he continues being in all the books, otherwise I will miss him so much. Plus, I think Grover undoubtedly gives that fun touch even in the worst situations, which makes reading a lot lighter and easier to read.
"The real world is where the monsters are."
This book contains so many action scenes and adventures that you couldn't choose a favorite, the journey of the characters to discover the truth and avoid war between the Gods is more than fascinating, we meet unique and magical places, a lot of super interesting mythological characters , You'll certainly feel like the danger is just around the corner for these three guys.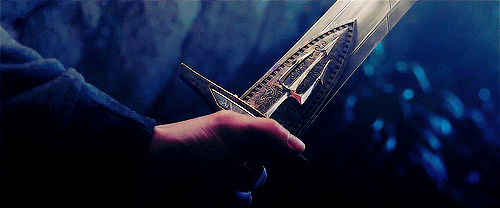 In fact, I still can't believe how many things have happened in one book!
If you want a fast reading, full of adventure, that values the friendship and that assures you endless moments of fun and unexpected things, I highly recommend this series! YAY !.

I can't wait to continue with the next book, things ended up pretty tense and I just can't wait
---
---
Rating
5 / 5 Stars
---
---
Feel free to leave your comment below, I always love to know what you think
find me at