Hi, loves! I hope you have a great day and have an even better weekend. Today I bring you my March Wrap Up , Where I tell you about my readings of the month, this month I've read 6 books and DNF 1, I think it's the same as last month, which is great,so I'm  happy . I'm super excited to show you what I've read, also most were very good readings but above all I've had a month of beautiful covers. PS: As you will see I wasn't able to read Wintersong, I really didn't feel like reading it, so I sure will but later
Let's start !
🙂
Month of new releases 2017 and beautiful covers!
This book is so beautiful, like everything Saenz writes, this has enchanted me, it's not as good as Ari & Dante, but it has touched my heart and made me feel alot of things. It has a familiar plot, of friendship and growth, the obstacles of life, how to overcome the losses, I think it's a great reading and I recommend it 100%.
I'll leave you my review in case you want to know more about
The Inexplicable Logic of My Life by Benjamin Alire Sáenz (4.25/5 Stars) REVIEW HERE
---
This is a Sci-Fi book where you will find yourself immersed in a great adventure, with excellent main characters, very well developed and diverse, also has a great variety of races, planets, universes, cultures, I think if you are like me ,of those people who are a little be afraid of sci-fi this is a very good starting point as it has a great Young Adult construction, which will make you feel very comfortable about it.
Again if you want to know more about my thoughts, I'll leave you my review below.
Empress of a Thousand Skies (Empress of a Thousand Skies #1) by Rhoda Belleza (4/5 Stars) REVIEW HERE
---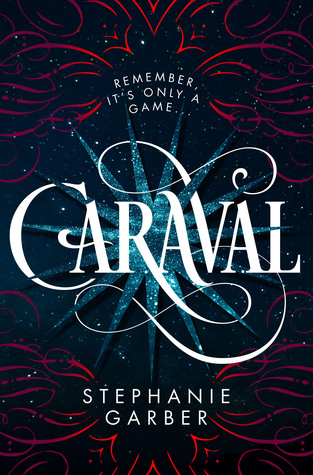 Omg this book guys, so incredible. Almost always I have a little of fear when I start a book with so much hype, since I do't usually agree with everyone, well here is the thing, I LOVE IT! , deserves all the love that is receiving.
The only word that now comes out of my mouth is MAGICAL, is a book full of magic places and magic moments that have made me feel so excited to continue with it, I think it's super original, actually I had never read anything like this before and the construction of the world It's wonderful, I wish everyone could give it a try sometime. Many more of my thoughts and feelings here below, I can't wait for the next book
Caraval (Caraval #1) by Stephanie Garber (4.5/5 Stars) REVIEW HERE
---
This was so incredible, so good, I feel it has been a good month, right? , This one has many repetitive topics which prevail in YA fantasy and that has prevented me to put a higher note, but on the other hand the writing style is great, the plot is super catchy and the key word to describe it would be ADDICTIVE, love to feel how little by little I got caught up in the history and I've enjoyed it a lot, it has a races war super original and entertaining that will have you on the edge of your seat, also has super fun moments and a great main character who is not afraid to say what she thinks . I will leave my full review below
Frostblood (Frostblood Saga #1) by Elly Blake (4/5 Stars) REVIEW HERE
---
DNF BOOK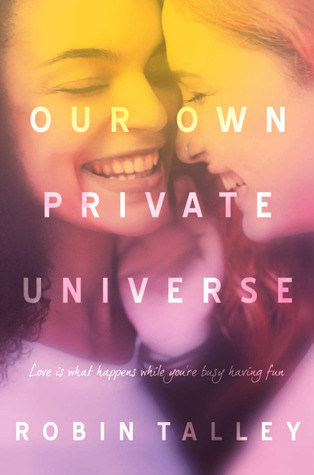 This was a big disappointment, I was really expecting so much from this book, first it was one of those cover buyings , because it's beautiful! , Shame on me!. But I also heard that it would deal with important issues like the sexuality and romance and friendship, and when I started it maybe my expectations were high, but it was a mess, guys, I find myself with a flat and careless main character, she doesn't cared about important things, I also found a very toxic relationship with which I couldn't connect, but anyway, maybe this one is just not for me, too much DRAMA.
I have a small review on the matter if you want to know more punctually what my problems with it, I will leave it below
Our Own Private Universe by Robin Talley (DNF) REVIEW HERE
---
Unexpected Readings
I was in the mood to read something post-apocalyptic then I took this and I tried a chapter but then I felt hooked and I felt like to finish it, as I said the beginning was very good, the plot is original the main idea is super original, but the Main character is so annoying and immature that I simply will not continue with the second book at least not for now, it really has all the potential but maybe with another type of character and with another point of view it would have worked better for sure
Full Review Below
The Rain (The Rain #1) by Virginia Bergin (2.5/5) Stars REVIEW HERE
---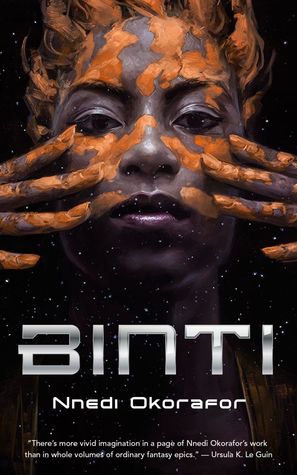 This is a short book super entertaining and interesting but above all original,I think it's about 100 pages or less, I highly recommend, if you don't have time to read and you want a Sci-Fi book with great content this is what you were looking for! , surely I'll be reading the second soon. PS: I love that cover!
Binti (Binti #1) by Nnedi Okorafor (4/5 Stars)
---
---
What has been your favorite reading of the month?
Feel free to leave your comment below, I always love to know what you think