Omg guys, I have this review since June of last year at Goodreads and for some reason I have never uploaded it to the blog !, which is crazy because it's a well known book that I would love to you to know my thoughts about, but hey, I've overlooked it all this time :(, but today, I've finally brought it !, so I hope you enjoy it :).
---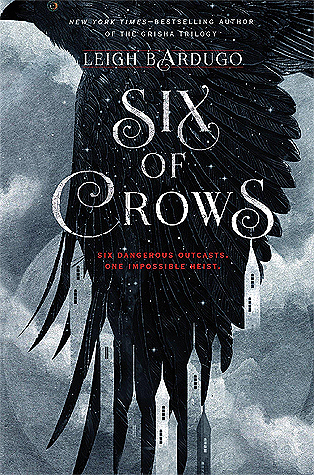 Title : Six of Crows
By : Leigh Bardugo
Published : September 29th 2015
By : Henry Holt and Company
Genre : YA-Fantasy-Romance
Criminal prodigy Kaz Brekker has been offered wealth beyond his wildest dreams. But to claim it, he'll have to pull off a seemingly impossible heist:

Break into the notorious Ice Court
(a military stronghold that has never been breached)

Retrieve a hostage
(who could unleash magical havoc on the world)

Survive long enough to collect his reward
(and spend it)

Kaz needs a crew desperate enough to take on this suicide mission and dangerous enough to get the job done – and he knows exactly who: six of the deadliest outcasts the city has to offer. Together, they just might be unstoppable – if they don't kill each other first.
---
---
I finally decided to go for this beautiful book, I have to say that it was totally worth it!
"Kaz leaned back. "What's the easiest way to steal a man's wallet?"
"Knife to the throat?" asked Inej.
"Gun to the back?" said Jesper.
"Poison in his cup?" suggested Nina.
"You're all horrible," said Matthias."

the world who Leigh Bardugo has created is fantastic! . And honestly I don't surprise because I've read The Grisha trilogy and the beauty of the world in which the story unfolds is AMAZING
About the comparison between "Six of Crows" and "The Grisha" that many people dare to do, I really don't think they have a comparison, the fact is they are different and the stories only share the same world, what I loved about this are references to characters from The Grisha Trilogy , that was very cool… And you know if you have seen my reviews about it , I'm in love with it 🙂
To begin the development of the story is very good, has been somewhat slow in the beginning, I found myself something lost, but then it's easy to catch again, because it's fascinating and very well told with different point of views that allows you to put yourself in the place of the characters and understand the why of their behaviors. It's very easy to get into this world and the atmosphere is very well described
The Characters are incredible, what I really liked is that there are a big variety of personalities among them , where surely you will find one with you're going to connect and love and another with which you don't
I'm personally in love with the relationship between Kaz and Inej, it's beautiful !.
These characters love each other so much !, and at the same time you can feel that love. They support each other , which is very nice to read, I really enjoyed their dialogues are pure gold!
But I have to admit I had my moment in which I wanted to scream "Why you aren't together if they both want, damn Kaz" LOL
"He needed to tell her…what? That she was lovely and brave and better than anything he deserved. That he was twisted, crooked, wrong, but not so broken that he couldn't pull himself together into some semblance of a man for her. That without meaning to, he'd begun to lean on her, to look for her, to need her near. He needed to thank her for his new hat."

I love Kaz is a character that has no waste, it's dark and smart and always has an ace up his sleeve which makes that when I was reading the point of views of Kaz passed me flying, I just flow through it! .And The story behind the character that he has been armed in his life "Dirty Hands" is wrenching, once you hear and see how hard it has been the life for him ,to such a young age you can understand the reason for his actions and his so cold personality . A Masterpiece of character !
"I'm a business man," he'd told her. "No more, no less."
"You're a thief, Kaz."
"Isn't that what I just said?"

I love Inej of course, a girl who has gone through very hard things and has become stronger because of it , I'm very proud of Inej and her actions, is incredibly sweet and loyal although lethal and knows how to bring that perfectly
Definitely Inej it's my favorite characters along with Nina, just incredible ! I think she has the best scenes in the book! Wow this girl really knows how to make a scene and also has brought me out more than a smile with her personality. I love her 🙂
"Stay," she panted. Tears leaked from her eyes. "Stay till the end."
"And after," he said. "And always."
"I want to feel safe again. I want to go home to Ravka."
"Then I'll take you there. We'll set fire to raisins or whatever you heathens do for fun."
"Zealot," she said weakly.
"Witch."
"Barbarian."
"Nina," he whispered, "little red bird. Don't go."

#STRONGGIRLS!
I don't think the other characters are bad or something, I just haven't felt as connected to them as to others, I'm so happy that no character has displeased me or looked annoying, that's good lol
Speaking of the end I was delighted and surprised and I'm going to die until  I can read the next book !!! . Because clearly I wanna to read it, This one left me with great desire to know what will happen, the plot twist at the end was unexpected
In conclusion I think it's a book that I recommend, especially if you like action, adventure and characters with strong life stories, this is the book for you! 🙂
---
---
Rating
4.5 / 5 Stars
---
---
Feel free to leave your comment below, I always love to know what you think
find me at