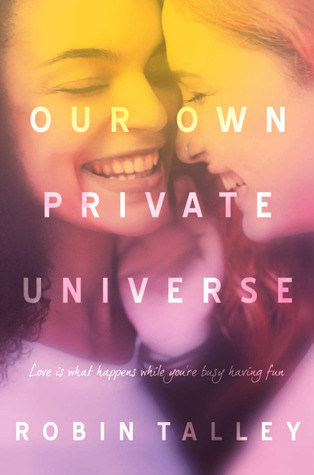 Title : Our Own Private Universe
 By : Robin Talley
Published : January 31st 2017
By : Harlequin Teen
Genre : GLBT-YA-Romance-Contemporary
Fifteen-year-old Aki Simon has a theory. And it's mostly about sex.

No, it isn't that kind of theory. Aki already knows she's bisexual—even if, until now, it's mostly been in the hypothetical sense. Aki has dated only guys so far, and her best friend, Lori, is the only person who knows she likes girls, too.

Actually, Aki's theory is that she's got only one shot at living an interesting life—and that means she's got to stop sitting around and thinking so much. It's time for her to actually do something. Or at least try.

So when Aki and Lori set off on a church youth-group trip to a small Mexican town for the summer and Aki meets Christa—slightly older, far more experienced—it seems her theory is prime for the testing.

But it's not going to be easy. For one thing, how exactly do two girls have sex, anyway? And more important, how can you tell if you're in love? It's going to be a summer of testing theories—and the result may just be love.
---

DFN and disappointed
Actually my expectations were high when I started with this book, so I think that may have influenced how I felt.
Let's say that this one is just not for me,I liked it at first and then it just got worse and worse.
Most of the characters have made me feel quite uncomfortable, their attitudes are incomprehensible and most of the time I don't know where they want to go with their behaviors.
Too much drama unnecessary! I understand that there must be, is what makes the story a little more interesting, isn't it?, But this has been too much and I really ended up getting bored a lot.
I didn't like the relationship between Aki and Christa at all, I feel it's strange and a little forced, I understand that the book wants to focus on LGBTQ relationships and that is incredible, actually it's the main topic for which I decided to read the book , but still I think that there isn't any type of plot well armed, in fact it is based solely on the relationship between the girls and they're annoying to me, then I couldn't allow myself to enjoy the book.
There is another thing I wasn't going to talk about but I decided to do it and I will be brief, I speak spanish, I'm from Argentina as many of you will know already and when I see spanish words,so poorly written,It horrified me , and I know that I can let it go, because I'm sure that my english isn't perfect but maybe other people are offended by it, so I wanted to highlight that in here
On the other hand I don't try to be mean here, I want you to always know that it's only my opinion and how it made me feel, and I hope it works for most of you!
P.D: That cover is Beautiful!
---
---
Feel free to leave your comment below, I always love to know what you think
find me at