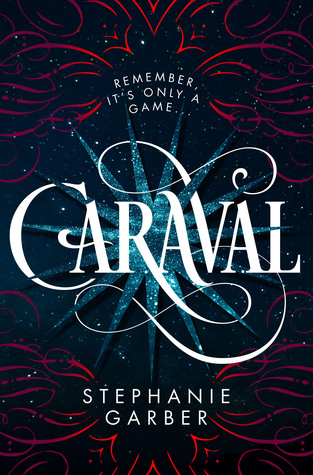 Title :  Caraval
 By : Stephanie Garber
Published :  January 31st 2017
By :  Flatiron Books
Genre :  Fantasy–Historical Fiction – YA– Romance
Whatever you've heard about Caraval, it doesn't compare to the reality. It's more than just a game or a performance. It's the closest you'll ever find to magic in this world . . .

Welcome, welcome to Caraval―Stephanie Garber's sweeping tale of two sisters who escape their ruthless father when they enter the dangerous intrigue of a legendary game.

Scarlett has never left the tiny island where she and her beloved sister, Tella, live with their powerful, and cruel, father. Now Scarlett's father has arranged a marriage for her, and Scarlett thinks her dreams of seeing Caraval, the far-away, once-a-year performance where the audience participates in the show, are over.

But this year, Scarlett's long-dreamt of invitation finally arrives. With the help of a mysterious sailor, Tella whisks Scarlett away to the show. Only, as soon as they arrive, Tella is kidnapped by Caraval's mastermind organizer, Legend. It turns out that this season's Caraval revolves around Tella, and whoever finds her first is the winner.

Scarlett has been told that everything that happens during Caraval is only an elaborate performance. But she nevertheless becomes enmeshed in a game of love, heartbreak, and magic with the other players in the game. And whether Caraval is real or not, she must find Tella before the five nights of the game are over, a dangerous domino effect of consequences is set off, and her sister disappears forever.
---
---
"Whatever you've heard about Caraval, it doesn't compare to the reality. It's more than just a game or performance. It's the closest you'll ever find yourself magic in this world."
Wow, I really love this book!, the key word here is Magical.
I'm sorry this review can't be as long or plentiful as ever, but time is tyrant, I promise you anyway that all my feelings and thoughts will be here.
I knew from before reading it that this was a very beloved book and has been well accepted by readers and due to its great hype, I must confess that I was a little scared, I don't generally like the books that everyone likes haha, I have a problem with that.
On the other hand, that hasn't happend here,this is a captivating book and catches you from minute one.
The plot is catchy and addictive, you start and it's very difficult to leave, since you want to know what will happen next. It has a great use of the elements of mystery!, I have really loved the way the story unfolds and instead of having answers you have more and more questions, until you find yourself wrapped in a dark and fantastic world where nothing is what is seems.
It's misleading and it will make a mess in your head
"No one is truly honest," Nigel answered. "Even if we don't lie to others, we often lie to ourselves. And the word good means different things to different people."
The main characters are very well developed, I appreciate the variety of personalities, since you will always feel fond of some of them,I adore the sisterhood relationship that the girls have, and only grows along with the plot. Both are so different and yet I have loved them both so much.
The world building is charming, magical and beautiful, it really has caught me, and the descriptions are adequate and you feel as if you were there, which is great, I really hope everyone has the opportunity to read this book, because I can guarantee you never read something like this before, or at least I never did
"Every person has the power to change their fate if they are brave enough to fight for what they desire more than anything."
I'm sure I'll be reading anything that Stephanie Garber writes from now on, her writing style is magical, and I know that I use this word a lot but it's the one that best describes the whole book and what it represents, so I'm dying to read the sequel and I'll surely be re-reading this later.
I recommend it for those who feel like going into a magical , unique and mysterious world!
I hope you enjoy it as much as I did it 🙂
---
---
Rating
4.5 / 5 Stars
---
---
Feel free to leave your comment below, I always love to know what you think
find me at