Hi everyone guys! I hope you are having a beautiful day :).
Today I bring you a new Book Tag, this time will be The Sacrifice Book Tag. This tag was created by Ariel Bissett , a Booktuber , Check out her videos !.
In this tag, we have four different scenarios, each of which requires you to sacrifice a book in order to get out of said scenario. I feel this will be a lot of fun and maybe I get a little hateful here, so let's get started!
Scenario # 1
An Over-Hyped Book: Let's start this off with a Zombie Apocalypse! Let's say you're in a book store, just browsing, when BAM! Zombies attack. An announcement comes over the PA system saying that the military has discovered that the zombies' only weakness is over-hyped books. What book that everyone else says is amazing but you really didn't see the point to do you start chucking at the zombies knowing that it will count as an over-hyped book and successfully wipes them out?!
Eleanor & Park by Rainbow Rowell
I know this is an unpopular opinion but I really didb't hesitate to choose it, I really wanted to give it a try because everybody said it's incredible and everything, but I don't see the point, I didn't like the characters, I just couldn't stand to Elanor, also after try with Fangirl too, I can say that Rainbow Rowell isn't for me, I'm sorry 😦
---
Scenario # 2
A Sequel: Let's say you've just left the salon with a SMASHING new haircut and BOOM: Torrential downpour. What sequel are you willing to use as an umbrella to protect yourself?
Requiem by Lauren Oliver (Delirium #3)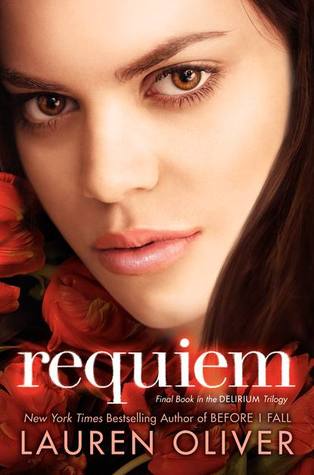 I don't know if this one counts, since it's the third book of the trilogy but I'll make it count, lol.
I really liked the previous books, I think the idea of this trilogy is super original and had the potential for a grand finale, but it wasn't a great end what I read, rather, seemed hasty and unfinished, was a big disappointment, so I wouldn't miss this book at all.
---
Scenario # 3
A Classic: Let's say you're in a lecture and your English teacher is going on and on about how this classic changed the world, how it revolutionized literature and you get so sick of it that you chuck the classic right at his face because you know what? This classic is stupid and it's worth detention just to show everyone how you feel! What Classic did you chuck?
I don't read classics, so I haven't answer for this one, even so, I would like to try it some day. In fact, I would love to hear from you some classic books to start and try 🙂
---
Scenario # 4
Your Least Favourite Book of Life: Let's say that you're hanging out at the library when BAM! global warming explodes and the world outside becomes a frozen wasteland. You're trapped and your only chance for survival is to burn a book. What is the book you first run to, your least favourite book of all life, what book do you not fully regret lighting?
Twilight by Stephenie Meyer
Fallen by Lauren Kate
OK, don't hate me, it's just my opinion and I respect to the people who love these books, they clearly haven't worked for me.
I'm going to select two books , since I've don't answer the previous one, I think it's fair, right ?.
Well, the thing is that I try to read these books about 4 or 5 times and I couldn't understand how they were so well known? I mean WHY the hype?, I was convinced that I was reading something else or something was wrong with me, but after so many tries I was convinced that I simply hate these books, I can't stand the characters, they are too dumb and nothing makes sense, things happen out of nowhere and without explanation, too many coincidences and so much cliche, I felt that I read a book for children where the female protagonist is about 5 years old, when in fact they are teenangers , OMG!, I just couldn't stand it, so this is my answer.
---
---
I hope you enjoyed this Tag, I know you can hate me a little, I understand, lol. It's that I couldn't contain myself, I think it's fun anyway, to get to know each other a little more and besides knowing the books that I do love also can see which I don't.
Thank you so much for reading guys, you're the best!
---
---
Feel free to leave your comment below, I always love to know what you think