Title : History Is All You Left Me
 By : Adam Silvera
Published: January 17th 2017
By : Soho Teen
Genre:  YA – Romance – Contemporary
When Griffin's first love and ex-boyfriend, Theo, dies in a drowning accident, his universe implodes. Even though Theo had moved to California for college and started seeing Jackson, Griffin never doubted Theo would come back to him when the time was right. But now, the future he's been imagining for himself has gone far off course.

To make things worse, the only person who truly understands his heartache is Jackson. But no matter how much they open up to each other, Griffin's downward spiral continues. He's losing himself in his obsessive compulsions and destructive choices, and the secrets he's been keeping are tearing him apart.

If Griffin is ever to rebuild his future, he must first confront his history, every last heartbreaking piece in the puzzle of his life.
---
---
Rating
4 / 5 Stars
---
---
"There's nothing wrong with someone saving my life, I've realized, especially when I can't trust myself to get the job done right. People need people. That's that."
I'd a lot of doubts about how many stars I would put to this beautiful book, because although there are some attitudes of the characters with which I disagree, I'm sure that it's one of the most original books I've read and probably one of the most emotionals ones too.
I think I'm quite happy with my decision
Let's Talk About History Is All You Left Me
I've entered to this book completely blind, without even reading the synopsis, which is risky and I know, but knowing that many people had really felt the story, I thought it would be fun to find out what was going on while I read it , And I'm telling you that it's been a emotions roller coaster , and I know that is something that people saying a lot when you describe a book, but guys, this one really is
In the book we follow this boy called Griffin who is facing with the loss of his ex boyfriend, who died , his first real love, Theo, so you can already realize that it will be a trip full of emotions.
We jump from the present to the past from one chapter to another, which is really dynamic and makes you get hooked much more with the plot. But one of the things I liked the most, and for which I think the writer did a great job is that Griffin doesn't tell us his present time directly to us, but he does it constantly talking to Theo, who in fact is dead
Then we have the chapters of his story where we know more about their relationship, their beginning, their end and everything in between.
I've enjoyed reading a book that is written in this way, I can understand that for many could be a problem or maybe you don't like to be changing dates and years constantly, but for me it has been refreshing, I also think it adds suspense and mystery to the plot, which makes you want to know more.
"Every universe I've created lately, your face keeps popping up in it."
I think the plot is super interesting, and although I didn't agree several times with Griffin's behavior anyway I liked to see the different stages through which he is forced to go through.
It has also fascinated me to read the contents of their story, they are funny and romantic, it's also a book that test the friendship and you will be surprised by the incredible twist in the plot.
I feel that Griffin behaved in a rather childish and Impulsive way on several occasions and that made me feel so angry with him, I know it's difficult and probably I'll never get to understand his pain, but , although I started feeling a lot of affection for him, I ended up feeling annoyed most of the time, in the end I can say that he's a character who needs to grow in his life, be sure he wants and maybe think a little more the things before doing them, I think he have hurt people who didn't deserve it and that Is a bit of what I feel.
I've liked bothWade and Jackson , I know they are probably secondary in the plot, but both are having more protagonism towards the end.
Wave is the boys best friend , it's funny and understanding and according to me is a very real character, with his fears and everything has managed to have very human attitudes with the boys, and despite having been repeatedly injured and pushed to one side , he was always there, I love that guy.
Jackson is such a good person, I'm sure that he have loved Theo so much, I think his entry into the plot is very necessary for the main character, he has achieved that Griffin open his eyes to finally solve what he would do with his life .
"There's got to be some scientific study somewhere that proves your boyfriend's sweater will keep you warmer and cure you of any illnesses a lot faster, than some Pottery Barn blanket."
It's so difficult to review this book, it's the first time that happens to me, I feel so much for it, but nothing comes out of my lol. I really recommend it, touch super important subjects, which you love to read and personally I consider it a book of friendship and loyalty, and I have seen a love hard and raw and intense like never before, it seemed even desperate , But that will depend on your point of view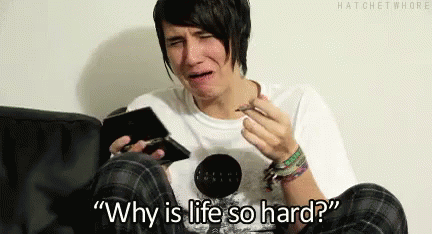 I know itsn't one of my best reviews not even close, but I swear I'm always be honest and this time I'm not sure how to express myself by this book, on the other hand I recommend it a lot, I felt so many things, bad and good things and I was very confusing too , but surely unforgettable
---
---
Feel free to leave your comment below, I always love to know what you think