Hi everyone, I hope you are having a great start to the week!
Today I bring you my January Wrap Up, where I'll tell you my readings of the month, I'm very excited to share what I've read with you, so let's do it!
January Wrap Up
This beginning of the year I was able to read 5 books, which is not incredible, but neither is wrong, I would say that is ok . This year I'm quite relaxed with my readings, in fact one of my year purposes is to read what I like and enjoy it, without pressure, and the truth is that I've enjoyed most of my readings of the month of january , so I'm very happy about 🙂
Completed Trilogy
I've finished this wonderful trilogy this month! I was very excited to read it for years and for some reason I had never done it until now, and OMG , it's excellent!               The writing style guys, blow my mind , so unique and incredible !, from now I going to read anything by Laini Taylor
This one has something for everyone , it's a magical story, full of love, friendship and family, especially a journey of self-discovery where you will see these unique characters grow and discover their place in a world where war seems eternal.
I've cried, laughed, loved, hated, all the feelings that I can have , I have it with this trilogy, so of course I highly recommend it !
Here below I will leave my reviews of each of the books in case they you want to check it out and to know more about my thoughts of this fascinating trilogy 🙂
Daughter of Smoke & Bone

by

Laini Taylor ( 5/5 Stars) REVIEW HERE!
Days of Blood & Starlight 

by

Laini Taylor (4.5/5 Stars) REVIEW HERE!
Dreams of Gods & Monsters 

by

Laini Taylor (4.5/5 Stars) REVIEW HERE!
DNF 50 %

 
I'm very sorry I couldn't finish this book, I generally hate to leave unfinished books, but neither going to force myself to read something that I really feel isn't for me, so that's what happened, the story was quite simple for me and somewhat flat too, so I ended up getting bored a lot and I just couldn't stand it anymore.
Even so, I plan to give an opportunity to the author in the future with some other of her books 🙂
If you want to know more about why this book didn't work for me, you can see a small summary of my thoughts HERE in goodreads
And the Last Book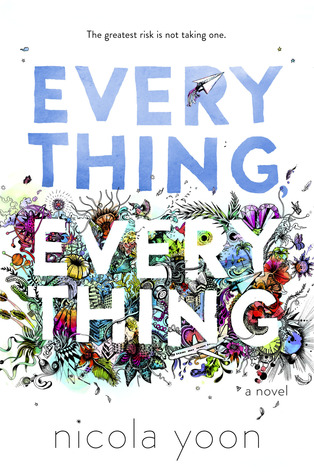 Everything, Everything 

by

Nicola Yoon ( 5/5 Stars) REVIEW HERE!
I'm so happy to have found this book, to be honest, I didn't expect so much from him, I thought it would be a light reading and as it's a rather famous book right now I was curious, and the thing is that YES, it's a light reading, but because it's very easy to read, I could have finished this book in a day if I could !, besides being so easy to read is also a book that touches a subject that I had never heard before so the plot is very original and this has allowed the author to play with the possibilities , in this book anything could happen !. I've adored the characters and the twist of the plot is unexpected and has left me in shok!.
I super recommend for those who like healthy love stories, strong family issues and a big twist in the plot :).
---
---
What has been your favorite reading of the month?
Feel free to leave your comment below, I always love to know what you think