Hi everyone, guys! , I hope you all are having an amazing time , today I bring you a weekly meme called WWW Wednesday originally hosted by A Daily Rhythm, and revived by Taking on a World of Words.
This meme tries to answer the following three questions:
What are you currently reading?
What did you finish recently reading?
What do you think you'll read next?
Let's do it!
---
What are you currently reading?
Dreams of Gods and Monsters by Laini Taylor (Daughter of Smoke and Bone #3)
This Synopsis may contain SPOILERS from previous books.
The book that everyone has been waiting for . . . the much anticipated final novel in Laini Taylor's breathtakingly imaginative Daughter of Smoke and Bone series, DREAMS OF GODS AND MONSTERS
By way of a staggering deception, Karou has taken control of the chimaera rebellion and is intent on steering its course away from dead-end vengeance. The future rests on her, if there can even be a future for the chimaera in war-ravaged Eretz.

Common enemy, common cause.

When Jael's brutal seraph army trespasses into the human world, the unthinkable becomes essential, and Karou and Akiva must ally their enemy armies against the threat. It is a twisted version of their long-ago dream, and they begin to hope that it might forge a way forward for their people.

And, perhaps, for themselves. Toward a new way of living, and maybe even love.

But there are bigger threats than Jael in the offing. A vicious queen is hunting Akiva, and, in the skies of Eretz … something is happening. Massive stains are spreading like bruises from horizon to horizon; the great winged stormhunters are gathering as if summoned, ceaselessly circling, and a deep sense of wrong pervades the world.

What power can bruise the sky

From the streets of Rome to the caves of the Kirin and beyond, humans, chimaera and seraphim will fight, strive, love, and die in an epic theater that transcends good and evil, right and wrong, friend and enemy. At the very barriers of space and time, what do gods and monsters dream of ? And does anything else matter?
I don't know much about it because I have just started, but I can tell you that I'm more than excited for the end of this series, because although I don't really want it to end, I know it will be EPIC!
---
What did you finish recently reading?
The Shadow Queen by C. J. Redwine
DNF 50%
Lorelai Diederich, crown princess and fugitive at large, has one mission: kill the wicked queen who took both the Ravenspire throne and the life of her father. To do that, Lorelai needs to use the one weapon she and Queen Irina have in common—magic. She'll have to be stronger, faster, and more powerful than Irina, the most dangerous sorceress Ravenspire has ever seen.

In the neighboring kingdom of Eldr, when Prince Kol's father and older brother are killed by an invading army of magic-wielding ogres, the second-born prince is suddenly given the responsibility of saving his kingdom. To do that, Kol needs magic—and the only way to get it is to make a deal with the queen of Ravenspire, promise to become her personal huntsman…and bring her Lorelai's heart.

But Lorelai is nothing like Kol expected—beautiful, fierce, and unstoppable—and despite dark magic, Lorelai is drawn in by the passionate and troubled king. Fighting to stay one step ahead of the dragon huntsman—who she likes far more than she should—Lorelai does everything in her power to ruin the wicked queen. But Irina isn't going down without a fight, and her final move may cost the princess the one thing she still has left to lose.
This book is the reason why I made this post today, I wanted to tell you why I have decided to DNF this book.
I generally hate to leave books unfinished but I feel that I can't take it anymore, I'm not a retelling person but it's because maybe I haven't read enough to have a clear opinion about the genre, so I don't think that's why haven't convinced myself. This book in particular started quite well, with that style of fairy tale, I found it very nice and entertaining, but every time it became more difficult to follow, the plot is quite simple if you think about it, that's not my problem but I felt that I never progressed and ended up getting bored a lot, I don't like the main character, I really can't feel the conection to her. And I'm really sorry because I was going so well this year, but well, I've promised myself not to force myself to read anything I don't like, this year I prioritize quality before quantity.
In the end I hope to try with more retellings later, I'll not give up just for a book and I would love to read more about the author, I'm quite curious.
---
What do you think you'll read next?
Before I Fall 

by

Lauren Oliver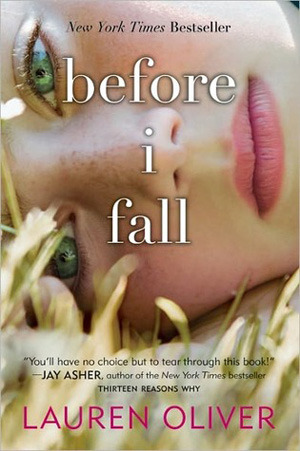 With this stunning debut novel, New York Times bestselling author Lauren Oliver emerged as one of today's foremost authors of young adult fiction. Like Jay Asher's Thirteen Reasons Why and Gayle Forman's If I Stay, Before I Fall raises thought-provoking questions about love, death, and how one person's life can affect so many others.

For popular high school senior Samantha Kingston, February 12—"Cupid Day"—should be one big party, a day of valentines and roses and the privileges that come with being at the top of the social pyramid. And it is…until she dies in a terrible accident that night.

However, she still wakes up the next morning. In fact, Sam lives the last day of her life seven times, until she realizes that by making even the slightest changes, she may hold more power than she ever imagined.

Named to numerous state reading lists, this novel was also recognized as a Best Book of the Year by Amazon.com, Barnes & Noble, The Daily Beast, NPR, and Publishers Weekly. It has been optioned for film by Fox 2000 Pictures.

Supports the Common Core State Standards.
Well this book is actually a re-reading, and I've been wanting to do it for some time, but now I have the perfect excuse because the movie is about to come out so I want to have the book fresh into my mind, it may not be one of my favorites, but as I remember litlle about, I'll give you another chance 🙂
---
---
I would like to know your answers!
Let me know in the comments!