Hi everyone, guys! , I hope you all are having an amazing time , today I bring you a weekly meme called WWW Wednesday originally hosted by A Daily Rhythm, and revived by Taking on a World of Words.
This meme tries to answer the following three questions:
What are you currently reading?

What did you finish recently reading?

What do you think you'll read next?
Let's do it!
---
What are you currently reading?
This synopsis may contain SPOILERS from the first book
Once upon a time, an angel and a devil fell in love and dared to imagine a world free of bloodshed and war.

This is not that world.

Art student and monster's apprentice Karou finally has the answers she has always sought. She knows who she is—and what she is. But with this knowledge comes another truth she would give anything to undo: She loved the enemy and he betrayed her, and a world suffered for it.

In this stunning sequel to the highly acclaimed Daughter of Smoke & Bone, Karou must decide how far she'll go to avenge her people. Filled with heartbreak and beauty, secrets and impossible choices, Days of Blood & Starlight finds Karou and Akiva on opposing sides as an age-old war stirs back to life.

While Karou and her allies build a monstrous army in a land of dust and starlight, Akiva wages a different sort of battle: a battle for redemption. For hope.

But can any hope be salvaged from the ashes of their broken dream?
I'm enjoying it a lot until now, the truth that this world that Laini Taylor has created has me totally hocked , besides that in this opportunity we can see the characters in their pure states, which is amazing, also gives us the possibility to know new characters and explore more this beautiful and magical world !.
---
What did you finish recently reading?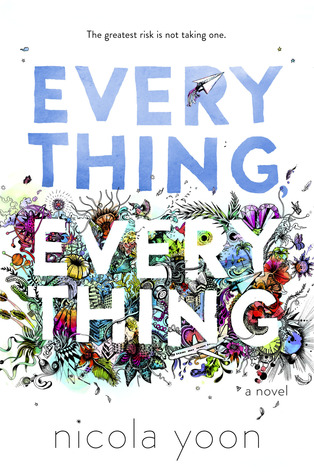 My disease is as rare as it is famous. Basically, I'm allergic to the world. I don't leave my house, have not left my house in seventeen years. The only people I ever see are my mom and my nurse, Carla.

But then one day, a moving truck arrives next door. I look out my window, and I see him. He's tall, lean and wearing all black—black T-shirt, black jeans, black sneakers, and a black knit cap that covers his hair completely. He catches me looking and stares at me. I stare right back. His name is Olly.

Maybe we can't predict the future, but we can predict some things. For example, I am certainly going to fall in love with Olly. It's almost certainly going to be a disaster.
Oh this book, guys, it has been such a wonderful surprise, I wasn't expecting much from it, to be honest, it's not the kind of book that I'm excited about, but really it made me feel things , alot of them. If you want to know more in detail about my thoughts about, here I leave you MY REVIEW 🙂
---
What do you think you'll read next?
This Synopsis may contain SPOILERS from previous books.
The book that everyone has been waiting for . . . the much anticipated final novel in Laini Taylor's breathtakingly imaginative Daughter of Smoke and Bone series, DREAMS OF GODS AND MONSTERS
By way of a staggering deception, Karou has taken control of the chimaera rebellion and is intent on steering its course away from dead-end vengeance. The future rests on her, if there can even be a future for the chimaera in war-ravaged Eretz.

Common enemy, common cause.

When Jael's brutal seraph army trespasses into the human world, the unthinkable becomes essential, and Karou and Akiva must ally their enemy armies against the threat. It is a twisted version of their long-ago dream, and they begin to hope that it might forge a way forward for their people.

And, perhaps, for themselves. Toward a new way of living, and maybe even love.

But there are bigger threats than Jael in the offing. A vicious queen is hunting Akiva, and, in the skies of Eretz … something is happening. Massive stains are spreading like bruises from horizon to horizon; the great winged stormhunters are gathering as if summoned, ceaselessly circling, and a deep sense of wrong pervades the world.

What power can bruise the sky

From the streets of Rome to the caves of the Kirin and beyond, humans, chimaera and seraphim will fight, strive, love, and die in an epic theater that transcends good and evil, right and wrong, friend and enemy. At the very barriers of space and time, what do gods and monsters dream of ? And does anything else matter?
OR
Lorelai Diederich, crown princess and fugitive at large, has one mission: kill the wicked queen who took both the Ravenspire throne and the life of her father. To do that, Lorelai needs to use the one weapon she and Queen Irina have in common—magic. She'll have to be stronger, faster, and more powerful than Irina, the most dangerous sorceress Ravenspire has ever seen.

In the neighboring kingdom of Eldr, when Prince Kol's father and older brother are killed by an invading army of magic-wielding ogres, the second-born prince is suddenly given the responsibility of saving his kingdom. To do that, Kol needs magic—and the only way to get it is to make a deal with the queen of Ravenspire, promise to become her personal huntsman…and bring her Lorelai's heart.

But Lorelai is nothing like Kol expected—beautiful, fierce, and unstoppable—and despite dark magic, Lorelai is drawn in by the passionate and troubled king. Fighting to stay one step ahead of the dragon huntsman—who she likes far more than she should—Lorelai does everything in her power to ruin the wicked queen. But Irina isn't going down without a fight, and her final move may cost the princess the one thing she still has left to lose.
Probably read both this month, but I don't know which one to follow first , if I'm too hooked, as I'm now with Days of Blood and Starlight, I'll continue immediately with Dreams of Gods and Monsters, if I can wait , well then I would love to go with The Shadow Queen because I really want it, so I don't know yet, but I'll read both anyway, I'm really excited about it 🙂
---
---
I would like to know your answers!
Let me know in the comments!