Title : Daughter of Smoke & Bone ( Daughter of Smoke & Bone #1)
By : Laini Taylor
Published : August 5th 2012
By : Hodder Paperback
Genre: Fantasy – YA – Romance – Paranormal – Mystery
"Errand requiring immediate attention. Come.

The note was on vellum, pierced by the talons of the almost-crow that delivered it. Karou read the message. 'He never says please', she sighed, but she gathered up her things.
When Brimstone called, she always came."

In general, Karou has managed to keep her two lives in balance. On the one hand, she's a seventeen-year-old art student in Prague; on the other, errand-girl to a monstrous creature who is the closest thing she has to family. Raised half in our world, half in 'Elsewhere', she has never understood Brimstone's dark work – buying teeth from hunters and murderers – nor how she came into his keeping. She is a secret even to herself, plagued by the sensation that she isn't whole.

Now the doors to Elsewhere are closing, and Karou must choose between the safety of her human life and the dangers of a war-ravaged world that may hold the answers she has always sought.
---
---
Rating
5 / 5 Stars
---
---
"Hope can be a powerful force. Maybe there's no actual magic in it, but when you know what you hope for most and hold it like a light within you, you can make things happen, almost like magic."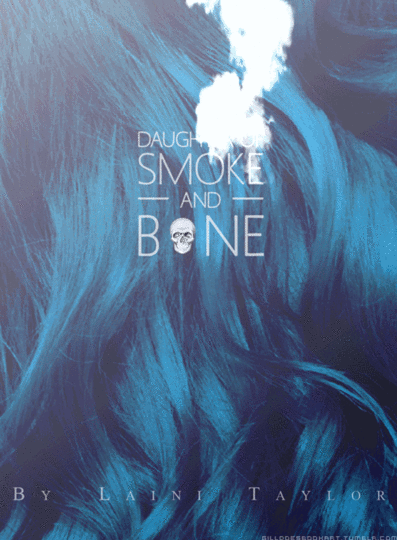 Wow guys, I'm in love with this book.
It has been an amazing trip and has left me with the feeling that the most important is yet to come, I'm dying to continue with this series
Daughter of Smoke and Bone tells the story of a girl named Karu who lives in Prague, where she studies art and lives alone in her small apartment, has problems with her ex boyfriend and has a good best friend, a life apparently quite normal, but then we realize that Karu actually lives a sort of double life where when she isn't in Prague she actually works collecting teeth of all kinds for Brimstone who is a devilish-looking being who has raised her all her life along with Yasri (a woman with a parrot pike), Issa (half woman half serpent) and Twiga (a half giraffe and half human) who descend from a race called chimeras. And it's from here that history begins to take shape.
Ok let's start, I will try to go straight to the point.
The plot is so original, guys, I can assure you that I've never read anything like this before , and that is so difficult these days, since many topics tend to repeat themselves until the tiredness, here everything is of the most original and had me hooked from the start.
"Have you ever asked yourself, do monsters make war, or does war make monsters?"
I love the way it all starts, the writer almost makes us believe that this will be a comun story like the others, but then we know more about this kind of magic that develops here and the world-building, and you simply fall in love with him, it's fascinating how the plot flows in a such a clever way that you don't expect any of the plot twists that happen . Also more at the end of the book, we find jumps from the past to the future that are written so beautifully in an almost perfect way.
I can tell you that it's so addictive that the chapters fly you by.
The characters are amazing !, I've loved the chimeras, I don't think I have read anything similar to these beings before, they are half human half animals and even have multiple combinations of different animals. While I was reading about this breed, I thought that this is what everyone is looking for when they want to read fantasy.
On the other hand we also have the seraphs, who are magical beings with the appearance of angels, have wings of fire and are very beautiful and they are very powerfull , and well I don't want to elaborate about them to not make spoilers, but if you read the book you will know more about these races that are incredibles, I feel that I still have so much to know about.
Karu is a great main character she is a very beautiful girl with blue hair, she's miterious , sarcastic, funny, extroverted and with the development of the book you realize that she is also very kick-ass and independent, in the best of the senses, I think you will feel very attached to her and her life, which is more than fasinante.
When you think that you already know everything, you will see that she will surprised you a lot.
I've liked Akiva (he's a serafin), ie , he has a little profile of the typical bad boy, he's super sexy and all that hahaha, but despite that I liked to know about his life and his past, he has suffered so much, he's a great warrior, I think he's a character that has so much to give and really surprised me much more toward the end, I had moments when I loved him and moments when I hated him, he has aroused many feelings in me, but I'll see.
"Once upon a time, an angel and a devil fell in love.
It did not end well."
I want to clarify that I've noticed a little insta-love happening here, and itsn't something that generally annoys me, this time I think it has been very noticeable and yes, it has seemed strange to me, but then you finish the book and you already know everything and everything has been revealed, I think that you will understand many things that you didn't understand at the beginning and maybe everything make sense for you as it had for me.
During the development of the story you will also meet more characters that you gonna hate and that you gonna love and it's that the crossed stories that this book possesses are so good , you have to think a lot while you read and I had like that need to go connecting loose parts along the way and that is so entertaining! 🙂
"Wishes are false. Hope is true. Hope makes its own magic."
So I think this sums up how amazing this story has been for me, now I understand why so many people seem to love it,and that is because they have all the motives.
I hope to continue with the next as soon as possible, because I need answers !.
And that end has shattered me! Dnjskfndjs
---
---
       

Feel free to leave your comment below, I always love to know what you think 🙂